Immigration Rallies Throughout Washington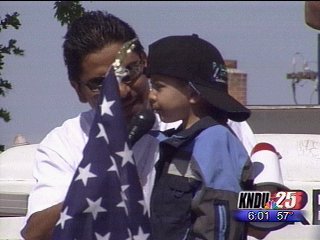 A caravan, with literally hundreds of cars, began in Grandview, WA - blocking traffic on I-82 - eventually sending several thousand people into Yakima's Miller Park.
In the Tri-Cities, hundreds gathered at several rallies on Monday, topped off by thousands of people who rallied at Volunteer Park in Pasco.
Pasco Rally
Immigration legislation has been a hot topic across the country, but thanks to good planning by the Pasco protestors police were able to make Monday's march a safe expressions of free speech. Squad cars lead the way.
Patrol officers blocked traffic intersections and officers on bikes monitored protestors as a sea of at least 2,500 people shouted against harsher penalties for illegal immigrants. Officers said the group got the proper permits from the city, and notified police well in advance of their plans which made it easy for officers to keep the peace.
"We know who the organizers are, the organizers know that law enforcement is there and we're monitoring it and we're ready to help them if need be, there's not been one of those occasions arise yet today, but we're prepared," Capt. Jim Raymond, Pasco Police Department.
Police said anytime group organizers give officers enough notice they can schedule the appropriate number of officers needed to ensure the safety of everyone involved.
Yakima Rally
After the caravan ended in Yakima, organizers estimate that as many as 15,000 people turned out to listen to the "Day without Immgrants" message. Others estimate the crowds at around 5,000 people. Either way, it certainly was one of the largest public rallies in Yakima history.
There were reports of altercations with police and a few fights, but overall, the rally appeared peaceful at Miller Park.
It began as a caravan in Grandview, joined by hundreds of cars, that clogges traffic Monday afternoon along I-82 and backed up traffic throughout downtown Yakima. Many cars and participants waved both Mexican and American flags as they made their way into Miller Park.
Some Yakima schools saw smaller class sizes and some businesses dealt with a few less employees on Monday as people took time off to join the rally.