Crime Trends in Yakima County
Posted:
Updated: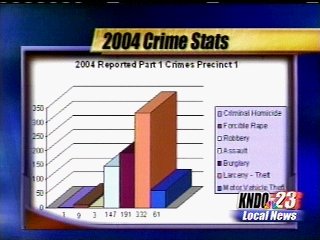 YAKIMA, Wash. -- The latest crime numbers released to the public are from 2004, but Chief of Detectives Stew Graham has been studying the 2005 statistics too, and he's seeing a substantial increase in felonies.
Compiling the data is the easy part; figuring out what to do about it is the challenge.
"Even assuming we could put on a lot more deputies, then the prosecutor's office would have to handle the bigger workload. And then there's the jail issue. Where are you going to put all of these people?" says Graham, who's with the Yakima County Sheriff's Office.
Yakima County Prosecutor Ron Zirkle says regardless of jail space, his office will prosecute.
"Every year we have more cases, significantly more cases. We're rising on average about 10% a year, which is a lot faster than our population is growing." says Zirkle.
The sheriff's office saw a major increase in two crimes in 2004, car theft and property crime.
"We attribute virtually all our property crime to methamphetamine." says Graham.
He and Zirkle agree that many of the county's identity theft cases are linked to drugs too. People are using stolen financial information, credit cards and checks to get their fix.
Zirkle doesn't blame local law enforcement, he says much of the meth coming into the county is being taken across the border from Mexico.
"Putting more police and more prosecutors in the county is a Band-Aid. The federal government needs to stop this at the border." he says.