Trends In Tri Cities Population
Posted:
Updated: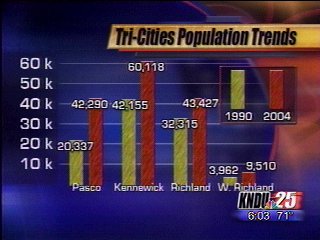 Every single year since the 1950's the Tri Cities has experienced growth.
Franklin County ranked as one of the fastest growing communities in the nation last year and it continues to expand.
Pasco Mayor, Joyce Olsen remembers what the area near the Pasco water tower looked like a decade ago.
"The only thing that was there ten years ago was primarily the Desert Plateau development and since then, hundreds of homes have gone in," Olsen said.
Pasco City Manager Gary Crutchfield compared a picture from 1993 to what the landscape is like now.
"The only improvement out here other than the farm circles and the highway, is the water tower, that is it, nothing else," Crutchfield said.
But, now there is Yokes Fresh Market on Road 68, Wal-Mart and the piece of land where Lowes will be built this year.
In Richland there is a growing golf course and more restaurants, all surrounded by homes. From 1990 to 2004 Pasco and West Richland more than doubled in population. Kennewick has a 25 percent growth rate.
"It is a lot, matter of fact, it is about twice the national average, so that is substantial," said Kennewick City Planner, Rick White.
And just who is living here? The Pasco community is about half white and half Latino or Hispanic. However, White said more minorities are moving to Kennewick and Richland as well.
"All segments of minority populations have been increasing in Benton county, so I don't think it is peculiar to Franklin county, I think we'll see that also," White said.
The bottom line is that all of these leaders say growth can and likely will continue.
The only exception is that the City of Pasco can't grow outside the urban growth boundary that's been established, so farmland outside the boundary will stay in agriculture production unless those boundaries are changed, Olsen said.