Leaping Salmon Design Picked for State Quarter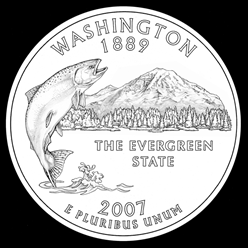 Governor Chris Gregoire has picked Design Two, the salmon breaching in front of Mount Rainier, as Washington's state commemorative quarter.
"I think it's important that we have something natural. We are really a state that thinks much of our natural heritage," Gregoire said.
Gov. Gregoire announced her choice May 4, 2006 at Centennial Elementary School in Olympia in front of an audience of students.
The winning design shows a leaping king salmon with a majestic Mount Rainier in the background and the slogan "The Evergreen State."
While answering questions from the students present, Gregoire noted that the winning design encompasses the entire state, Mount Rainier can be seen from points in both Eastern and Western Washington, and salmon spawn throughout the Columbia River system are an important part of the tribal heritage of our state.
Design Two polled as the public's favorite with nearly 45% of the vote. Design One, an outline of Washington State with apples, Mount Rainier and a salmon garnered approximately 41%, and Design Three, the Northwest Native American styled Orca, received approximately 14% of the votes cast.
The Governor's choice will be forwarded to the US Mint for final approval. Washington's quarter will be the 42nd in a series commemorating the states, and is scheduled for release in March 2007.
"Washington has a vested interest in the quarter – all quarters already have one side that honors Washington with a profile of our first president," said Governor Gregoire. "With the minting of our design, these quarters will be 100 percent Washington."