Health Care Trends in the Yakima Valley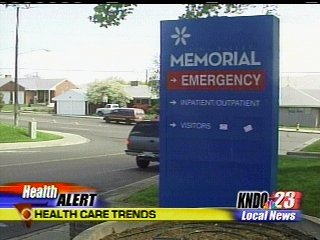 YAKIMA, Wash. -- Over the last five years, several health care trends in the Yakima Valley have emerged. The number of uninsured adults and children is rising, along with the cost of health care premiums.
The latest figures show Yakima Valley Memorial Hospital is responsible for nearly $1.3 million dollars in charity care, the most of any local hospital.
But technology, the other trend that's emerging, could make health care more affordable in the long-run, by increasing access to information and improving patient monitoring.
Lynda Boggess, a nurse manager at Memorial, says, "All of that makes health care more efficient, and probably more inexpensive."
Doctors and hospitals are switching to entirely computer-based medical records, for everything from medication to radiology.
Roger Pomeroy, an imaging coordinator, says, "We can burn an entire patient's file on one CD, as opposed to a file that's one-inch thick."
Doctors can easily share the information, and patients can be monitored 24/7, while they're in the hospital, for things like blood pressure, respiratory and heart rate.
"We have monitor techs who watch these all the time and can alert nurses by walkie-talkie." says Boggess.
Of course, all of this technology comes at a cost, too. But Boggess says it can make hospital stays shorter, and safer, for the patient.