Columbia River Heavy-Metal Pollution studied
Posted:
Updated: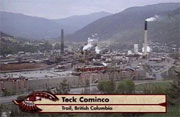 The government has announced an agreement with a Canadian zinc producer to study heavy-metal pollution in the Columbia River. Teck Cominco of Vancouver, British Columbia, agrees to pay 20 (m) million dollars. The Environmental Protection Agency will monitor the study.
The agreement was reached after two years of negotiations that also covered lawsuits by the state of Washington and the Colville tribe.
The mining company had argued that the lawsuit should be thrown out because the United States could not impose rules on Canadian companies. Federal Judge Alan McDonald disagreed. He says U-S environmental laws are intended to clean up pollution inside the United States, regardless of origin.
The E-P-A calls the study a first step in cleaning up 150 miles of the Columbia from the Canadian border to the Grand Coulee Dam.
Colville Tribe, Dept. of Ecology Concerned
The Washington Department of Ecology and Colville Indian Tribe are expressing concern over a unique agreement between the Environmental Protection Agency and a Canadian company.
E-P-A Regional Administrator Michael Bogert says the agreement is historic and keeps the issue out of court. But Ecology Director Jay Manning and the Colville Tribe say the agreement may not be enforceable and doesn't require Teck Cominco to clean up the heavy metals pollution from its Trail, british Columbia smelter. Bogert conceded the issue of who will pay for the eventual cleanup still has not been resolved. Manning says the agreement is a private contract between the federal government and an international mining company. He says the agreement lacks a typical consent order or consent decree that can be legally enforced and require a polluter to clean up contamination. Teck Cominco has put up 20 (m) million dollars to complete studies of pollution in the 150-mile-long reservoir behind Grand Coulee Dam.