Vit Plant Now $11.5 Billion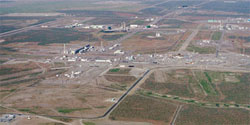 RICHLAND, Wash. - $11.5 billion, that's how much researchers now anticipate it'll cost to complete Hanford's Vitrification plant.
That's one billion dollars more than the last estimate in December 2005.
Every year the Department of Energy receives funding from Congress to build the plant. This year D.O.E. received 200 million dollars less than they expected and asked Bechtel National, Inc. to make a new estimate to determine the new overall cost. When researchers did, they found technical issues that require more money.
Now the total is $7.2 billion more expensive than the plant's orginal estimate of $4.3 billion.
But D.O.E. workers claim the estimate will make for a more efficient plant.
"We have a much different plan than was envisioned at that time. We have a more capable plan. It will be larger and will be able to process more waste," said Erik Olds, U.S. Dept. of Energy.
Once completed in 2019, the plant will stand 12 stories tall and fill four football fields. The D.O.E. anticipates it will be the largest nuclear facility of its kind, and will convert millions of gallons of radioactive waste into less dangerous glass like logs.