U-37 Boat is on the road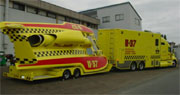 Source: ABRA Hydroplanes
The U-37, pride of Billy Schumacher Racing, LLC, departed Seattle early Tuesday morning, enroute to this weekend's Chevrolet Freedom Festival in Evansville, Indiana. Decked out in its new neon yellow and red livery, with familiar yellow and black checkerboards, the U-37 looked spectacular behind the team's newly delivered Kenworth T-2000 hauler.
"The transformation this team has undergone in the last few months is unbelievable", said Crew Chief Scott Raney. "The depth of equipment at our disposal is more than we have ever had to work with, and it is a huge testament to the commitment of our owners Billy and Jane Schumacher -everything about them is first class. The approach they are taking to this endeavor is rubbing off on everyone associated with this team. I can't wait for this weekend to start."
The Evansville race this weekend kicks off the six-event series for the U-37 team. 2005 Rookie of the Year Jean Theoret is equally anxious to take the wheel of his familiar mount. "I've been in touch with him every day, and he is just chomping at the bit to get back in the cockpit of this boat", said Raney. Theoret looks to improve on a season in which he won the Seattle and Nashville races, as well as the exhibition in Theoret's 'home race' in Valleyfield, Quebec.
The U-37 will run as "Miss Seattle" at selected events on the mid-west swing of the ABRA circuit. Owner Schumacher's father was an owner of the original "Miss Seattle" hydroplane (the former Slo-Mo-Shun V), and 2006 is the 50th anniversary of the family involvement. The U-37 is painted in a retro design which pays respect to the first "Miss Seattle", and will be very popular with the fans. The U-37 will run as "Miss Beacon Plumbing" at the Pasco and Seattle races using a similar paint scheme.