Fever Coach Resigns Without Explanation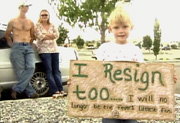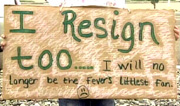 KENNEWICK, Wash. - Dan Whitsett has suddenly and unexpectedly resigned as head coach of the Tri-Cities Fever, just days before the defending champs' home playoff game against Wyoming. Neither the team nor Whitsett will give a reason for the resignation.
The second-year coach denied that it was due to his reported differences with ownership, repeatedly citing either personal reasons, or making no comment. The timing couldn't be worse. It's highly unusual for a coach to resign right before the postseason. Whatever the reason, Whitsett says it was his decision, and it couldn't wait a day longer.
"It was for the best," Whitsett said. "I wouldn't have done it if I didn't feel that way. It was a situation where it just had to be done at that time.
Whitsett feels bad about leaving his players at such a crucial time in the season. "Some of them I do. I had some good relations with some of the players, but you know, it's a business. I don't feel like I left them in a bad situation."
The team now has until Monday night to prepare for Wyoming. At practice Thursday, part-owner Randy Schillinger declined to comment on the resignation as well. Off camera, he told KNDU that he and Whitsett had an agreement not tell the media why Whitsett resigned. Second-year offensive line coach Ed Simmons will take over the team on an interim basis.
I've followed the game really closely," Simmons said. "I've been doing it all season from the sideline. I'm gonna handle the situaiton in the way that I feel the players need. "
The players have been told not to comment on Whitsett's resignation. Whatever led to the successful coach calling it quits, the team knows they have to come together. "It's a unique thing that happened, and we're treating it like that," said QB Joe Wiser. Ultimately we're just preparing ourselves to win a game and try to get rid of all the extra-curricular stuff that's been going on. It all happened for a reason. I thnk it's the best thing overall for the team."
Whitsett will still be the head high school football coach at Tri-Cities Prep . His letter of resignation is below.
Dan Whitsett's Letter of Resignation:
"I felt at this time it was best to offer my resignation. I would like to thank the Carr's for the opportunity to lead the Fever the last two seasons.
It was truly a magical ride to the championship last season and something that me, my family, the players, and the Fever fans will never forget."

"I'd like to thank the players and certainly all the loyal fans of the Fever for all their kindness and support given to me and my family over the last two seasons. I would also like to thank the members of the media, as they have been wonderful to work with and very professional.
I would never part ways at this time if I didn't feel it was not necessary. Certainly, I would never purposely let anybody down. I have learned a lot from my two seasons as Head Coach of the Fever. I have seen the good, the bad, and the ugly side of professional sports. I have poured my heart and soul into this organization. As I look back on it, I wouldn't change anything that I did.
Now I will focus my full attention on the upcoming season at Tri-Cities Prep, and look forward to leading them.
I certainly wish the Fever players all the best in their upcoming play-off game Monday night against Wyoming"