Jean Theoret: "Do you believe in miracles?"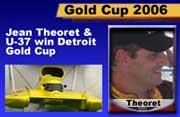 "Do you believe in Miracles?"
That's what U-37 driver Jean Theoret said to his race crew before the final heat in Detroit. Theoret went on to win the final heat to make it into the finals, then went out and won the Gold Cup.
"I'm proud of this ream," said Theoret; "This team's got a lot of heart, lot of soul." He admits they were a little down going into the final heat. Theoret had been penalized in every race he'd run that weekend and the boat was having some problems.
In the finals, the problems showed when the cowling flipped off. You could hear the pop from the sidelines.
"On the second lap, I looked in my mirror and saw it was gone. The boat was still handling pretty good - a little nose heavy, but handle-able," said Theoret.
Theoret didn't miss a beat, running a great race and winning the trophy. "We'd been talking about pulling my wing off for some time," he said. "Maybe now we've proved a point. In the future, we'll have to try it that way."
How's the boat headed into the Tri-Cities race? They'll be ready to go.
"Guys have put a new rear wing together. We brought parts back from Detroit, from the colwing, 75% of it was good," he said.
Theoret and the U-37 will be in the Tri-Cities this week and ready to go.