Drivers say Tri-Cities race course built for speed, danger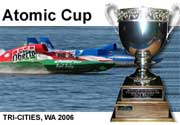 "It's a fast course," said Dr. Ken Muscatel, U-2.25 driver.
It's fast because it's bigger than most. Two and a half miles and big turns - more than 50% bigger turns than other courses.
That means "higher speeds," said two-time defending Tri-Cities champ Dave Villwock, U-1 driver. "The bad news is when races start all of that great water foes away. It gets a lot rougher, especially in the first turn."
Muscatel agrees. "The race is a great race. Trememndous amount of fun. I really enjoy it," he said. "The course is god-awful."
It's because of the currents, Muscatel said. "I've been over twice in the Tri-Cities." In 2002, Muscatel flipped upside down and snapped the U-25 Silver Dollar Casino in half as he moved into the second turn near the Pasco side.
Jean Theoret, U-37 driver, said they've had great water conditions last year and expects it to be similar this year. "Nice water, nice course, very fast for us, good corners," he said.

And that means a great show for the fans. "In the Tri-Cities, you're right there," said David Williams, Hydroplane Museum Curator and driver for the U-2.25 team. "Boats can go by in lane 5 and the boats blow water on your face."
That's a little different than race sites like SeaFair in Seattle where you're a mile away from the roucse. "People (in the Tri-Cities) love the sport."