Local Family Escapes Lebanon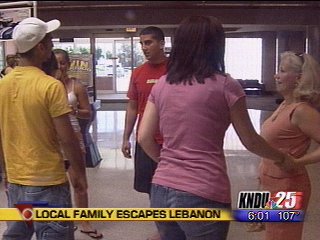 PASCO, Wash. - One Tri Cities family trapped in Lebanon returned home safe Monday.
It started out two weeks ago as a trip for a family wedding, but just days after they landed, bombs rained down on their town, some members of the Girgis family thought they would never get out alive.
Monday, the Girgis family walked through the doors at the Pasco airport and embraced loved ones waiting for their return.
It was a frightening trip they said they're grateful to leave behind.
"I was going out of my mind, let's put it that way. It was supposed to be a family vacation, but it ended up a nightmare," said Nehmat Girgis.
Just days before their return, Israeli's bombed the town where Nehmat's daughter Lissa was visiting her cousin.
"It just exploded right by us on the port and everybody starts screaming and streaking, and all of the sudden they start shooting and I don't even know where. I thought I was going to get shot down," said Lissa Girgis.
Meanwhile her brother Paul said he could hear the explosions going off at home.
"I thought for a second what could that be? What is that? Then a second later, Boom! I felt the ground move and the house almost shook," said Paul Girgis.
The family said they risked their lives just trying to get to the evacuation port. Nehmat, her daughter and two sons made it on board the U.S. Carrier ship that brought them to safety, but Nehmats said they had to leave several cousins behind. Although the family faced death, Nehmat says leaving their loved ones in a war zone was the hardest part.
"The whole time I was on the ship looking at Lebanon and imaging my family there and I'm just leaving them. It was the saddest thing. I was crying the whole time," said Nehmat.
The family said the best part was coming home to the house they left two weeks ago.