Dave Villwock Flips Boat in Heat 2-A, Comes Back to win Atomic Cup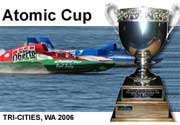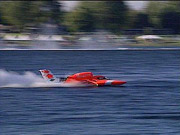 Dave Villwock Taking the Win in the Unlimited Final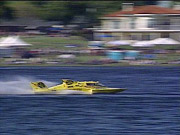 Greg Hopp Taking the Win in the Unlimited Lights Final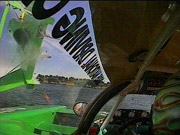 Flip with the U13 from Inside the U6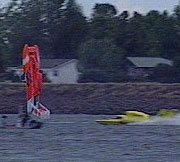 Dave Villwock's Flip From Heat 2A
Dave Villwock flipped one and a half times during heat 2-A, but he walked away. His crew managed to replace the engine and re-build the back end of the boat. Villwock then went out and won Heat 3-A and the finals.
SundayHeat-2A
Boat
Driver
Rank
Points
U-37
Jean Theoret
1
400
U-10
J.W. Myers
2
300
U-99
Jeff Bernard
3
225
U-9
Chris Bertram
4
169
U-2.25
Dr. Ken Muscatel
DNS

-

U-7
Mike Allen
*DSQ

-

*Disqualification due to incident before race
Heat-2B
Boat
Driver
Rank
Points
U-3
Jimmy King
1
400
U-6
Steve David
2
300
U-13
J. Michael Kelly
3
225
U-21
Kevin Aylesworth
4
169
U-5
Mike Weber
5
127
U-100
Greg Hopp
6
95
Heat-3A

Boat
Driver
Rank
Points
U-1
Dave Villwock
1
400
U-10
J.W. Myers
2
300
U-5
*Mike Allen
3
225
U-3
Jimmy King
4
169
U-37
Jean Theoret
5
127
U-9
Chris Bertram
6
95
U-2.25
Dr. Ken Muscatel
7
71

*Driver Changed Before Race
Heat-3B

Boat
Driver
Rank
Points
U-7
Mike Allen
1
400
U-6
Steve David
2
300
U-99
Jeff Bernard
3
225
U-21
Kevin Aylesworth
4
169
U-100
Greg Hopp
DNS

-

U-13
J. Michael Kelly
DNS

-

FINAL Heat

Boat
Diver
Rank
Points
Avg. Speed
U-1
Dave Villwock
1
400
142.272
U-10
J.W. Myers
2
300
139.114
U-6
Steve David
3
225
132.333
U-37
Jean Theoret
4
169
128.254
U-5
*Mike Allen
5
127
127.519
U-3
Jimmy King
DNF

-

-

U-21
Kevin Aylesworth
DNS

-

-

*Driver changed before Heat 3A
Saturday

Dave Villwock won Heat 1-A narrowly beating Jimmy King in the U-3.
Jean Theoret blew away the field in Heat 1-B and took the checkered flag, but was later disaqualified for a fuel flow violation, handing the victory to Steve David and the U-6. Theoret was hit with a flagrant fuel violation, but his crew claimed the N2 levels were only out of whack during the time before the flag dropped to start the heat and therefore they should not be penalized. ABRA officials deliberated overnight, but upheld the disqualification.
Mike Allen hit a rough spot on the water and took some air. "We landed right on the prop," said U-7 driver Mike Allen. "It snapped." It also tore up the gear box and some other parts, putting the National Points leader on the beach for the rest of the weekend. U-7 is done for the weekend.
Heat-1A

Boat
Driver
Rank
Points
U-1
Dave Villwock
1
400
U-3
Jimmy King
2
300
U-21
Kevin Aylesworth
3
225
U-9
Chris Bertram
4
169
U-7
Mike Allen

DNF

-

U-99

Jeff Bernard

DNF

-

U-13

J. Michael Kelly

DNS

-

Organized in finishing order

Heat-1B

Boat
Driver
Rank
Points
U-6
Steve David
1
400
U-5
Mike Weber
2
300
U-100
Greg Hopp
3
225
U-10
J.W. Myers
4
169
U-2.25
Ken Muscatel
5
127
U-37
Jean Theoret
DSQ*

-

*Disqualified for low fuel violation

The G-17 blew over this morning while on a parade lap. It was the same boat that flipped in 2005 on the Columbia.
Driver Dustin Echols was in the driver's seat when the G-17 blew over. It appears the throttle got stuck in a wide open position. Echols was taken to the hospital as a precaution, but returned to the pits within the hour. He's OK.

STORY, VIDEO & PHOTO OF G-17 FLIP

Time Trials
Boat
Driver
Time
Points
U-1
Dave Villwock
161.899
100
U-3
Jimmy King
161.521
80
U-10
J.W. Myers
160.912
70
U-5
Mike Weber
159.486
60
U-37
Jean Theoret
158.083
50
U-7
Mike Allen
156.652
40
U-6
Steve David
153.940
30
U-21
Kevin Aylesworth
150.612
30
U-13
J. Michael Kelly
149.335
30
U-9
Chris Bertram
147.691
30
U-100
Greg Hopp
147.039
30
U-2.25
Dr. Ken Muscatel
143.976
30
U-99
Jeff Bernard
143.403
30

Organized in order of fastest time.
For National Season Point Listings CLICK HERE
Meyers' Auto Tech Challenge

Ken Muscatel was the winner of Meyer's Auto Tech Challenge. Muscatel and Aylesworth put on a show for the fans with a close two-boat race up until the end when Muscatel pulled away.
Details & Play-by-Play Video of Meyers' Auto Tech Challenge
The U-3 blew an engine Friday morning. The crew's confident the repairs can be made to be ready Saturday. U-9 had power problems and an issue with the canopy, but the crew was able to fix it. 33-year old Chris Bertram was able to turn some laps Friday afternoon.
"Good set up for tomorrow," said Steve David, U-6 driver. "Not too hot. We'll need to find another four miles an hour or so."
Good run today for Mike Allen in the U-7. "Any success we've had this year... credit the equipment," said a humble Allen.
Conover Insurance announced local sponorship of the U-3.
HYDRO WEEK: Thursday
Lots of activities in Columbia Park today. The U3, U5, U6, U7, U9 & U21 are in the pits. So are the cranes from Lampson.
And the transformation of Columbia Park continues. Kennewick City employee, Terry Smith has been driving a tractor trailer around trying to make sure all the gravel is even for the boats. He said things are going smoothly, "everything seems to be working just fine so far."
Volunteers said preparation is two days ahead of schedule. They have double the amount of volunteers this year.
Collin Mertens is 18-years-old and has been volunteering for five years. He said, "We're not going to be sweating bullets this years as we have in the past."
Competitors are putting the final touches on their boats. Crew workers said they are ready to race, "just check everything over. We are pretty prepared. I mean really pretty much ready right now."
Many people were looking around and watching as Columbia Park transforms into a hydro plane hot spot Thursday
Volunteer Kevin Smith said, "We had people showing up yesterday morning, wanting to get in. The die hards, we call them hydro heads."
"It kind of gets in your blood and there's nothing like a rooster tail at 190 miles an hour going up the Columbia river."

HYDRO WEEK: Wednesday

On Wednesday, the U-9 Jones Racing Team, sponsored locally by Jackson's Sports Bar in Kennewick, was at the restaurant and bar - ironically right next door to KNDU-TV.
In the pits on Wednesday, the porta-potties have started to arrive! So have most of the cranes that will be used in the Lampson Pits this weekend to take boats in and out of the water. The "barge" is set up on the start-finish line. This is where race officials will be during the races along with the clock race teams will use to time the start.

The platforms are in for the TV broadcast - which you can see on TV on KNDU-TV, KNDO-TV, KHQ DT 6.3, or watch in a Live Stream on KNDU.com or KNDO.com. So far, the tower for the play-by-play broadcast next to the barge, one of the camera towers near the entrance to the pits, and the broadcast tower at the east end of the pits is set up. There are still several other towers to go!
HYDRO WEEK: Tuesday
On Tuesday, the U-21 Freedom Racing Team showed up at the KNDU-TV parking lot where it was featured on KNDU Local News at 5 & 6. The U-21 Miss Simpatico is racing in the Tri-Cities as the Area Codes Cellular U-21 powered by Meyers Auto Tech. The boat made appearances at both sponsors this week as well as the Boys and Girls' Club. THe U-21 team donates a portion of sponosrhip money to local childrens' organizations.

Sunday Heats
Final race day! Unlimited Heats 2A, 2B, 3A, and 3B run from 11:10am to 1:30pm. Results will be posted shortly after each race during the 20 minute break. And expect your final results from both the Unlimited Lights and the Unlimited.

Lights Final is from 3:50pm to 4:10pm and the Unlimited at 4:25pm to 4:45pm.
TV SCHEDULE
Friday:
5:00pm Meyer's Auto Tech Challenge - LIVE on KNDU-TV
6:00pm News & Features - LIVE on KNDU-TV
6:30pm Special Program - LIVE on KNDU-TV, KNDO-TV
Saturday:
6:00pm News & Wrap-Up - LIVE on KNDU-TV, KNDO-TV
Sunday:
11a-5p Live Coverage - LIVE ON KNDU-TV, KNDO-TV, KHQ DT 6.3, Comcast Cable 14 (Spokane)
6:00p News & Wrap-Up - LIVE on KNDU-TV, KNDO-TV
INTERNET SCHEDULE
Friday:
5:00pm Meyer's Auto Tech Challenge - LIVE STREAMING on HydroInsider.com
6:30pm Special Program - LIVE STREAMING on HydroInsider.com

Saturday:
All Day Heat Highlights - Clips Available on HydroInsider.com
NEW: Saturday afternoon - Heat 1A and 1B will be available as a Live Stream on KNDO.com or KNDU.com (No TV)
Sunday:
11a-5p Live Coverage - LIVE STREAMING on HydroInsider.com