Triple Threat Tour Performed Wednesday Night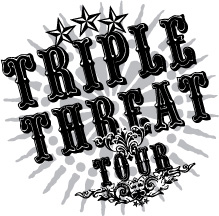 The Triple Threat Tour performed Wednesday night at 7:30 on the Main Stage. The Triple Threat Tour consists of BlackHawk, Little Texas, and Restless Heart.
BlackHawk - The vocal trio, BlackHawk took the country music world by storm in 1994 with their debut single "Goodbye Says It All." They boast 15 Top 40 hits, including "Every Once in a While," "That's Just About Right," and "I'm Not Strong Enough to Say No," and numerous awards. Today, BlackHawk's legacy continues, and the group is ready to move ahead with its unique, organic style of country music.
Little Texas - One time known as "the hardest working band in country music," Little Texas was conceived in 1988 in Nashville. The band debuted on the charts in 1991 with the song "Some Guys Have All The Love," which became their first top ten hit. The album "Big Time" spawned three number 1 singles with "What Might Have Been," "God Blessed Texas," and "My Love," and has sold almost three million copies.
Restless Heart - They were one of RCA's greatest band success stories of the late '80s and early '90s. Their hits included "I'll Still Be Loving You," "Tender Lie," "Why Does It Have To Be (Wrong or Right)," "When She Cries," "Bluest Eyes In Texas," and "Dancy's Dream." During their ten year history, Restless Heart scored three gold-selling albums which produced seven number one single in a row.