Local Victim Speaks Out About Kevin Coe's Release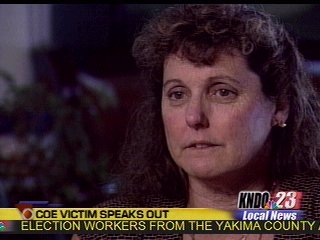 YAKIMA, Wash. - The woman responsible for putting notorious rapist Kevin Coe behind bars speaks exclusively to KNDO's Faye Hoffman. Julie Harmia says there's no doubt Coe will re-offend if he is released from prison.
"I haven't slept in 25 years." she says. Harmia still tears up as she talks about it. "It's like pulling the scab off an old festering sore. It hurts like heck." she says.
Her rapist, Kevin Coe, is scheduled to be released in a week. It's a day she's been fearing for more than 25 years. "Every time I heard he was challenging it, I just thought, 'Oh please god, he's got to stay locked up.'" Harmia says.
Although Coe is suspected of raping over 40 women, Harmia's is the only conviction that stood. "I feel like the little Dutch boy with his finger in the dike. I'm the one person who kept this man out of the population." she says.
It happened on her first night in Spokane. She had just moved in to a new house, and was coming home from her first day at a new job. "And I saw this man jog by, and I thought nothing of it." she says. "My mistake of course, was to turn around and walk away."
Coe grabbed her, brutally raping and beating her. The bruises healed, but it was his words that left a lasting impression. "That the police can't protect me 24 hours a day, and he will come back, and he will kill me." she says.
Harmia adds that she doesn't fear for her life anymore, she fears for all of Coe's potential victims. That's why she wants him locked away for good, at the state facility on McNeil Island. "He's a sociopath." she says. "To this day he says he's not guilty."