Saltwater causes a different set of challenges for unlimited hydroplane race teams
The San Diego race is the only place on this year's tour that features saltwater and that means a different look to the hydroplanes to overcome the water.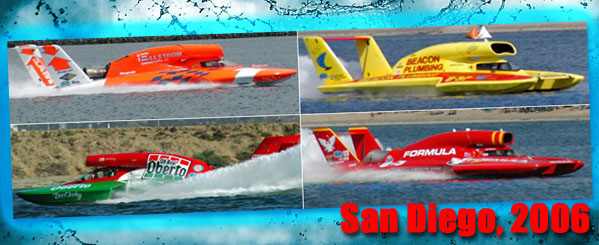 THE "EXTENDED" AIR INTAKE SCOOP ON THE TOP OF THE COWLING OF FOUR OF LAST YEAR'S
UNLIMITED HYDROPLANES AT SAN DIEGO
"It (the saltwater) can get inside the turbine and crystallize on the blades," said U-16 Ellstrom's Elam driver Dave Villwock. "The temp goes up and can cause the engine to stall or fail."
What's the trick? "Try to stay out front," Villwock said, to avoid getting caught in the spray from other boats; "Try as hard as you can to find clean air."
Still, Villwock says even if you are out front, there can often be a haze in the air depending on which way the wind is blowing. "Most teams have worked on systems and processes to try and be competitive in that kind of environment."
Boat teams run different cowlings at San Diego to try to fight off the salt water. And teams have been doing some R & D this season to try to come up with different designs to make it even more effective.
| | |
| --- | --- |
| | The U-37 tested one type of cowling in the Madison with limited success. The scoop was set back a bit and angled, but appeared to buckle after a few high speed laps. |
| | |
| --- | --- |
| | The U-17 has an air intake scoop somewhat similar to what the U-37 was testing. The boat ran strong in Seattle and might be effective at fighting off the effects of the salt water. |