U-6: New boat announcement coming soon?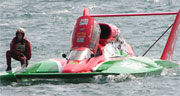 It sure sounded like they're talking a new boat during the ABRA conference call with media members.
Larry Oberto, sponsor of the U-6 Oh Boy! Oberto team, said it comes down to money and efficiency. But he's confident the team can take care of both. "I'm really, really confident they know where to spend the money on the important items," he said. "We want to do the same thing with the new boat. We want to do a complete job."
"Part of that job," Oberto said," is to know what pieces to put the funds into. I think we've got a good formula and we're ready to go racing next year."
"We've talked to a lot of people," said Bob Hughes, team owner. "We're pretty close, but not quite there yet."
Obviously, driver Steve David is a big proponent of new equipment. "A new boat would be state of the art, in fact, leading edge - the next step in boats.
The current boat is more than 16 years old. It was state of the art when it hit the water in 1988. In its first race in the Tri-Cities, it broke every record on the books. The boat was updated in 1991 to make it more competitive.
Since then, technology advanced. New hull designs and better tech allowed other teams to build quicker, faster boats. "We're about 700 pounds too heavy," said David. "All forward center of gravity." That weight doesn't allow the U-6 to compete as effectively at the start of races. "Newer designs can crawl along at 25 miles an hour," said David. "For us, under 80, we're a submarine."
The U-6 is also four inches narrower than other designs. Spread out over the course, it translates into less lift. Lack of lift in start can also be a problem in maneuvering the boat into the right lane at the right time. It also takes longer to accelerate, critical in getting to the first pin.
"The start is ever more important than it's ever been," said David. "Get a boat that would give me a better start and win a lot more races."
Even with an aging boat, the fact the team has finished second in the National High Points team championship two years in a row, and David has won back-to-back Driver High Points championships is remarkable. David is quick to praise the crew for its work. In San Diego, the U-6 turned in some of the fastest laps all season. "This crew is so good, they could take a penny and stretch into a 100 miles of copper wire," joked David.
"We've evaluated where the sports has been going in last few years, how the team has developed," said Oberto. " When I look at both those things, I can feel pretty confident about new equipment. We'll have an announcement soon."