State of Emergency Declared in Tieton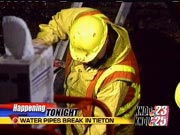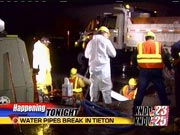 TIETON, wash. - A state of emergency has been declared in the City of Tieton. Mayor Norma Joiner made the announcement this afternoon.
People in the city are now completely without water, while crews work nearly round-the-clock to repair broken water pipes. There is no definite answer as to when they will get water restored.
Most people in Tieton have been going without water since about 5:00 a.m., and are pretty frustrated.
They are having to go to the Tieton Fire Department to get water in buckets.
The Red Cross and Yakima County Health District are also there passing out bottled water at City Hall trying to make sure people have safe drinking water.
A few homeowners have gone without water since Wednesday night, as more pipes began breaking.
Joiner blames old pipes, rain and heavy trucks for the problems.
She says all of the rain they've had lately has saturated the ground -- and heavy trucks are driving over pipes installed in the 1940's.
Schools are open as normal. Special measures have been taken to ensure sanitary conditions there.
Some businesses in the town have closed operations until water is restored.