Off-season for Villwock means lots of gym time
Posted:
Updated: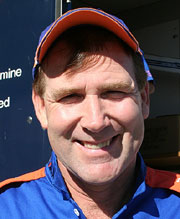 Dave Villwock, U-16 Elam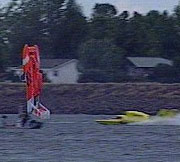 Dave Villwock flips in Tri-Cities race, then comes back to win
"We're getting boat ready, getting the engine ready," said Dave Villwock from the U-16 Elam Plus team.
But it's not just the equipment that gets a workout during the off-season. Villwock spends a lot of time at the gym to keep up his physical strength. "I've always felt... if you were in top physical condition, at the end of the day, you were going to have an advntage over the other guy," he said.
A typical regimen for Villwock's off-season training would include about 30 minutes a day on the treadmill, followed by push-ups and sit-ups. Then, at the end of the day, swimming, more push-ups and sit-ups, and maybe a treadmill run as well.
"(You) have to be able to take the hits, be at peak performance," Villwock said; "so when something bad happens - like last year, crashing, the body was able to take the hit."
Another activity that keeps him sharp is skiing. Living in the Seattle area allows him easy access to ski slopes, sometimes as much as 2-3 times per week during the ski season. "Good cross training," said Villwock. "It's a little like a race course - you're never quite skiing the same thing. The same bump isn't there that was there last time. Something will have changed the mountain. You're constantly reacting to what's coming at you."
Not all drivers do such a grueling routine. Villwock says it's one of the ways he's been able to stay in the game as long as he's had. Getting and staying in shape lets him deal with the physical pounding his body takes during the races.
"You don't get hundreds of hours in the cockpit during the off-season." He said that's one of the reason the older drivers are still racing. They've got more seat time in the boat. So, you do what you have to do to stay in shape. "If you do all that and do it well, it puts you in pretty good condition for the season," he said.
Villwock said the sport's in pretty good shape, too. "I think we've got a quality field," he said. In the past, some race fans complained it was dominated by the Budweiser team. "Now, it's fairly competitive. That's a good thing." He's confident the sponsorship dollars will follow. "But," he said," it's going to take some time to bring back the economic part of the sport."