HydroInsider.com Annual Award Winners (2006)
Posted:
Updated: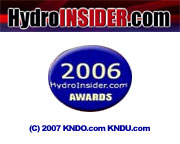 Thanks to the more than 200 people casting their ballots in the HydroInsider.com 2nd annual awards. There was spirited voting in a number of categories. The winners are listed above in the graphic, but here are the top vote getters in each category:
Best Driver
Steve David - 47%
Jean Theoret - 33%
Dave Villwock - 16%
Best Team
U-6 Miss Madison Oh Boy! Oberto - 37%
U-37 Schumacher Racing - 31%
U-5/U-7 Formula Boats.com & U-16 Miss Elam (tie) - each had 14%
Best Race Site
Tri-Cities - 27%
Detroit - 25%
Seattle - 19%
Madison - 18%
Biggest Contribution to the sport in 2006
Billy Schumacher & Ted Porter (tie) - each received 38%
Larry Oberto - 9%
Sam Cole - 7%
Best Moment
Final Race in San Diego - 60%
Dave Villwock flips and wins in Tri-Cities, WA - 24%
U-7 wins title with rookie driver Mike Allen - 8%
Other Awards (Open Nominations)
Rookie of the Year: Mike Allen
Living the Dream: David Williams getting his turn behind the wheel of U-2.25
Best Video: U-13 flips over the top of U-6 in Tri-Cities, WA
Crew Chief: Mike Hansen
Best Ambassadors: U-21 Freedom Racing
Best Radio Coverage: WORX, Madison, IN
Best TV Coverage: KNDU, Tri-Cities, WA (thank you!)
Best Technology: Whoever put the new in-boat cameras for better on-board video. (editor's note - I believe it was FocusedTV out of Florida).
Note: Percentages don't add up to 100% because there were others nominated that didn't make the top slots.