People Remember and Share Their Thoughts About Travis Pfister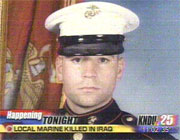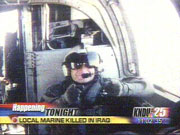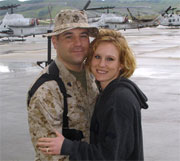 Sgt. Travis Pfister of Richland, WA pictured in 2005 with wife Jessica (SOURCE: Purple Foxes)
"I know Travis only through the Marines in the USMC at Camp Pendleton. The world is indeed a small place because, as we make military remembrance bracelets for soldiers all over America, it was jolting to get many KIA bracelet requests for a guy from our own hometown. His Marines loved him. It is an honor to know him through his comrades." - Mark Williams
"I always new you were a special kind of Marine, I am Proud to have served and had you as a friend. Although your work in this life is done, you move up to a much tougher job now, God only lets the best of the best Gaurd Heavens Gates Semper Fidelis Bro." - Sgt. Kevin Williams
"As a webmaster of a Marine Support Group I never had the honor in meeting Travis but watching him over three tours of duty I knew what kind of man he was through his family and buddies. He loved his wife and family, Marine buddies, his job and his country. Travis, you changed the world around you and will be truly missed along with the others that sacrificed their lives that day. We will not forget. Semper Fi" - Vicki Wages
"I haven't seen Travis since he was only a little boy. Our families were friends and I used to babysit Travis and his brother Josh. I remember on one occasion while babysitting, Travis wanted to play his favorite game of (War). Travis was always wearing his army shirt with his pretend gun strapped to his side. We would pile up all of the couch cushions and then use them as pretend bunkers. Travis and Josh and their cousins would then launch items across the room and yell "incoming" and then dive for cover. Travis was a little jokester and as we played I suddenly heard a loud thud next to me. When I looked down I was shocked to see a real grenade! As I panicked, I began yelling, "Travis, what have you done?" By now Travis was rolling on the floor hysterically laughing. "It's been drilled out, it doesn't work anymore!" Travis said with his Kool-Aid smile and one missing sock. I began to chase after him to tickle him, but he got away and ran outside. He must have planned this because as soon as I reached the door I was met with water balloons! The little blonde boy with curly hair had a love for life that not many people ever know. I guess that little boy grew up and became a man (a very handsome one!) and he continued to love life and do the things that made him happy. When Travis was little he talked about his hero's and how mighty they were. "Well Travis you have now become that mighty hero to all of us and we are all so proud of you." - Lisa Gibson (Larsen)
"Our school, Harding Middle School in Cedar Rapids, IA, "adopted" Sergeant Pfister as part of our "Adopt A Soldier" program. We immediataly fell in love with the humor of Mr. Pfister and looked forward to our weekly exchange of emails. Our school was deeply saddened when we learned that all soldiers on a helicopter crash were killed; one of which, our good friend, Travis. God's blessings to the Pfister family from our school in this time of struggle for them." - Harding Middle School Student Council
"Travis was a friend to all who new him for even just a second, and a hero to everyone. He will be loved, he will be missed and he will be remembered. Semper Fi!" - Koko
"Travis was one the best friend I have ever had in my life. I've [been] with him the past 4 years with the Purple Foxes but it feels like I have know him my entire life. I will miss my friend but I will never forget him. Travis, may you live forever in the hearts of those you have touched." - Sgt. Erick Tijerina
"Travis was an amazing person. He had such an amazing spirit and a wonderful heart. Travis was the life of the party, he had this amazing energy and a smile that was contagious. Wherever Travis was you knew something fun and exciting was going to happen. He will be greatly missed by all that knew him." - Stephanie Butler.
"He was the funniest person I knew. He knew exactly how to lift you up when you were down. He will forever be missed by his family." - Lacey Davis.
"I didnt know Sgt Pfister....but he was a Marine....Semper fi, your tour is done...rest well and guard the gates of Heaven..." - LtCol Marshall Smith USMCR Ret.
"I knew Travis through my brother Russ Rodriguez. They were a couple years older than me. I knew Travis as a very happy go lucky guy. He was hilarious and the life of the party. My thoughts and prayers are with his wife, Jessica and all of Trav's family." - Jennifer Rodriguez.
"I first meet Travis when he was still in High School. We hired Travis as a parttime employee at Les Schwab Tire Center for after school work. Having been in the Marines myself I knew Travis had it. Travis had what it takes to be a UNITED STATES MARINE. A true Marines Marine. I shared many stories with Travis about the Corps and I can still remember the excitement he had for it. I am proud to have know you & to call you a brother. You Travis are a true hero! God bless you and the Corps. My family has yours in our prayers tonight." - James Dempsay
"Thank you for your service Sgt. Pfister. Your sacrifice will not be forgotten. Semper Fidelis!!" - Patrick McAndrew
"I wish to extend my condolences to the family of Sgt. Travis Pfister. No words can ever adequately compensate for your great loss, but please take comfort in the knowledge that this young man, though gone from this life, will forever live on in yours, and our, memory as a hero. Sgt. Pfister chose a dangerous mission and carried with him his love of service to God, country and Corps, as well as to his fellow Marines. He is someones child and someones spouse. His life had unwritten chapters and goals far from filled. He is also an American hero who deserves and commands respect from each and everyone of us. Rather you support the war or not, men like Sgt. Pfister are doing a job most could not do. Most of the troops support the cause and we need to support them! If you say you support them, support what they are doing. I for one, as a veteran, will honor and keep your memory alive, by letting people know there is a freedom worth fighting for. And there are men like Sgt. Pfister who will give there all for that freedom. His spirit is now standing post, in the words of the Marine Corps hymn, guarding the streets of heaven. It is to this spirit that I say, Stand your new post until properly relieved." - Rick L. Fehr (Navy vet)