About Mercer Construction
Posted:
Updated: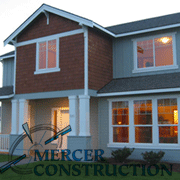 Paula Mercer Butterworth, president and owner of Mercer Construction Inc. is a native Tri-Citian. She was born in Kennewick, and raised on a 20-acre farm in Eastern Washington. Hard work, honesty, and personal integrity are values her mother and father instilled to each of the four children in the family. These traits resulted in a local business owner with strong core values and a passion for her work. When you choose Mercer Construction Inc., you choose an unwavering commitment to integrity, quality, and customer satisfaction.

Paula's father started Mercer General Contracting in the Tri-Cities in the early 70's. Paula's upbringing on the farm, as well as growing up with three brothers and a strong sense of family, has given Mercer Construction Inc. a unique insight into new home construction that has provided the inspiration for Paula's latest development - River View Pointe, located in the premiere South Richland location

River View Pointe is a neo-traditional community reminiscent of times gone by. It brings back a sense of community, home, and family. Working together with Tom Masterson, a local builder in the Tri-Cities since 1976, they developed the vision to build a neighborhood unlike any other. Located in the heart of South Richland, River View Pointe offers both contemporary homes and homes adhering to the "Arts and Crafts" tradition while incorporating today's technologies. Pedestrian-friendly setting with tree-lined streets, meandering side-walks, and plenty of open green space define this community.

The importance of developing long standing relationships with subcontractors, suppliers, and financial institutions is critical to the creation of a well respected and trusted company. Each of those partners used by Mercer Construction Inc. represents the best in their field, and shares the same core values and principles.