Our Mission - Quality, Integrity, & Dependability
Posted:
Updated: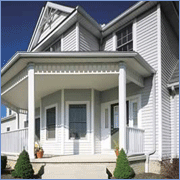 Nor-Pac Exteriors Inc. specializes in vinyl, steel, and aluminum siding- from the simple to the complex high end multi-story homes.


Quality, Integrity, & Dependability
We pride ourselves in meeting a high standard of workmanship for every task and project we undertake. Our attention to detail allows us to provide prompt, personalized service to a large variety of clients. Our work ethic to meet and exceed client expectations through a high level of job performance stems from 22 years of tradition and expertise in all types of exterior home remodeling and repair. We make use of the finest materials to meet the repair and remodeling needs of our clients.

Experience You Can Count On
22 Years of extensive experience and constant training, combined with professional and close supervision of our projects provides our customers with the newest techniques and the best possible supervised job execution. We undertake and complete projects by specification, on time, on budget, and at competitive prices.

Licensed, Bonded, & Insured
Nor-Pac Exteriors Inc. is a fully licensed, insured, and bondable contractor - staffed and qualified to provide superior workmanship and service. Our track record and list of satisfied clients is living proof of our abilities and our performance as proven masters in all aspects of all of your exterior needs.