With a strong finish in 2006, Jeff Bernard can't wait for 2007 season
Posted:
Updated: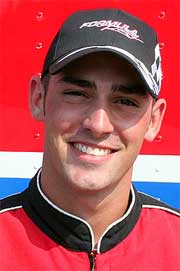 Official photo from FormulaBoats.com website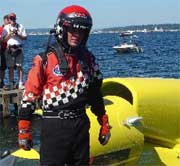 First race in an Unlimited in Seattle 2005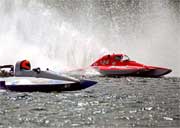 Jeff races the red S-24 in 2004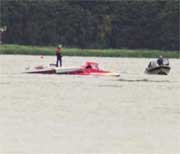 Standing on top of his inboard in 2003
Jeff Bernard grew up around hydroplane racing. His uncles, Mark and Mike Weber, are hydroplane racing veterans. And his step-father Terry Troxell has logged his time in the cockpit, too.
And he grew up, literally, racing boats. He started racing outboards at age 9 and won his first race at 11. And he's been in the driver's seat ever since. He set a World speed record in a J Stock hydro in 1997, then set two more speed records in the J Pro hydro class in 1998.
And his track record shows success at each levels he's raced. He won the High Points championship in the 2.5 litre Stock in 2003 Lighter than Lights 4-cylinder class and the 5 litre 8-cynlinder class. In 2004, he repeated as 5 litre, 8-cylinder champion and in 2005 in the 4 cylinder class.
He's had a few rides in unlimiteds, including winning the Provisional Heat in 2005 at Seafair and qualifying of the finals. Then it was some time the U-99, which he raced in the Tri-Cities in 2006 before joining the FormulaBoats.com team to race the old Budweiser T-6 hull.
"I was a bit reluctant about hiring Jeff because he is my nephew," said Team Manager Mike Weber. "But I had to take that out of the equation and just decide who was the best driver for the Formulaboats.com team."
In Tri-Cities, he drove the U-99 finishing 3rd in both Heat 2A & Heat 2B.
Then it was on to Seattle, where he took over the U-5 driving duties finishing 3rd in Heat 1A and 4th in Heat 2B, then 5th in the finals.
But it was in San Diego where he really showed his driving skills. In four heats, he logged a 1st place finish, and three 2nd place finishes. He wound up 5th in the finals.
And he'll be back in the cockpit for 2007 for the FormulaBoats.com team.
"(Owner) Ted Porter and I are pleased to know Jeff will return to drive for the Formula Boats team in 2007," said Weber. "We'll keep Jeff in the T-6 hull and Mike Allen will remain in the T-5. They both have gotten comfortable in the boats they have been driving."
"I appreciate the opportunity Ted Porter has given me," said Bernard. "I really wish the season hadn't ended so soon and I can't wait until next year!"

"Everyone on the team was immediately impressed with the way Jeff handled the pressure of stepping into a boat with these kind of expectations." said Weber. "He did everything asked of him in Seattle and San Diego. And we are anxious to see what Jeff and Mike can do next season with a team that will have more experience, more equipment and a lot more time to prepare. It will be exciting!"
With the success of last year, the Formula Boats Team thinks it has a bright future. "I feel really good," Ted Porter added. "I think the guys have their act together. They said 'you can't run two boats, it'll never work, there will be hurt feelings.' But it worked. I have to pinch myself, that it really did happen. With the same crew, we can only improve on next year."