Nate Brown & Our Gang Racing. This team's a little different.
Posted:
Updated: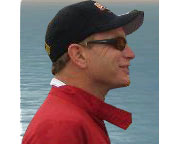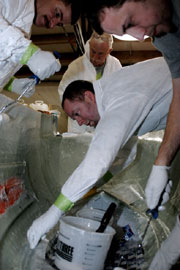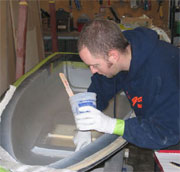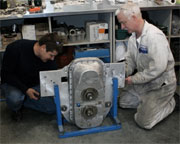 This team's a little different.
"We're here to have fun... number one thing," said Nate Brown, a 28-year hydroplane veteran, and owner of the new Our Gang Racing boat. "One of the owners," he's quick to point out. "Everybody on the team has a piece of it."
The boat's being built in Seattle now. All the hardware's done. They're building the empty hull right now. And they're building everything from scratch.
"Great group of guys," said Brown. "The chemistry on this team is better than anything I've ever been a part of."
Posted on the wall of the shop is Brown's credo:
To have fun.
To learn.
To be challenged.
To be a team.
To be amazed.
To make friends.
To go places.
To work hard.
To kick some ass.
The team was put together from Brown's friends and acquaintances over the years. Outside of his nephew Kip Brown, they're folks who haven't been around the Unlimited Hydroplane racing circuit. Did I mention this team's a little different? Everybody is a part owner. "I hand picked them," said Brown. "And we're going to have fun." Like having a crew day we're everybody is going to get a chance to drive the new boat.
"I've been around teams where guys will work their tails off for a T-shirt," he said. "These guys will get a chance to drive. Maybe not at 200 mph - for safety reasons - but they'll get a chance to see what it feels like. It's for fun. As long as the guys are having fun..."
"We're running about a month behind, honestly," said Brown. "We're not going to the first month of races." That puts the debut - if things stay on schedule - at the Tri-Cities race at the end of July. "It's a two race season," he said. "Tri-Cities, Seattle." The team hopes to test the boat in the water before Tri-Cities, but there may not be enough time.
He's done this before. "We built the Elam and put it in the water and hit 160 right out of the box," he said; "we're doing things a little differently this time, it might now work as well. But we think it will."
Speaking of Elam, the Ellstrom folks have been instrumental in helping get the team off the ground. "I've had help from the Ellstrom team - and almost every other team on the circuit," said Brown. "I call it - designed by everyone." The Lycoming T-55, L-7c engine is coming from Whispering Turbines. Erick Ellstrom (Five AQxis Industries) is making the aluminum
case halfves for the engine and the U-16's turbine guy Tracy Bratvold and his company are building the engine with help from Butch Corning at Competition Specialties.
Brand new engine. Brand new props. Brand new props - brand new everything. "I've had some great help," he said.
Brown will be the crew chief on the boat. He's also going to start the season as the driver. "If something's wrong, not quite right, I'll know it. I didn't want to risk putting anyone else there until we have it worked out." The someone else is nephew Kip Brown, who will take over the driving duties after Seattle. Brown is 31, a flatbottom boat driver and will also drive for the 5-litre Bartush team in 2007.
Kip's got a "good blood line," said Brown. Married to Terry Troxell's daughter, "he's a good shoe." Brown says Kip's a great driver, aggressive, and likes the inside lane. "I'm 47. I'm no spring chicken," Brown said. "I can still do it (drive). But I want to concentrate on making it safer and faster."
"It's fun. It's exhilarating. A challenge," said Brown. What more could you ask for?