Martina McBride Biography
Posted:
Updated: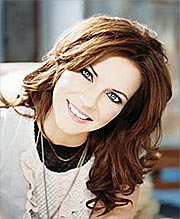 Started mastering today and, as you can imagine, it was a day of listening, listening and more listening. It's great, we have a handle on it, and I'm happy with the results so far, but we will spend the weekend listening again and tweaking. It's so much focus and thinking and making decisions about minutiae that most people will never notice ... Is the kick drum too loud? Is there too much reverb on the vocal? Do we need a DIFFERENT reverb on the vocal? Do we need NO reverb on the vocal? Are the background vocals loud enough?
Such is life these days for Martina McBride the producer, artist and writer. Despite racking up 16 million in sales, 22 top 10 singles-including six number ones with crossover success in multiple genres-numerous CMA and ACM awards and a slew of national television appearances in her illustrious 15-year career, Martina continues to scale new artistic heights. Many performers might hesitate to tinker with such success, but not this one.
After self-admittedly "hitting a wall, creatively" upon finishing her eponymous 2003 release, Martina recorded what she calls "a labor of love," the platinum-selling Timeless. A tribute to the country music she grew up with, the album gave her the space to not think about "what to do next" and just focus on making music simply for the joy of it.
"Recording Timeless allowed me to pause and be inspired musically by looking back without pressure to move forward creatively," Martina says. "I had always wanted to do an album that would pay tribute to the music that shaped who I am as a country music fan. Even though I'm known as a contemporary country artist, I think it has always been obvious that I have a great reverence for our country music heritage. After making Timeless, I came into this album renewed, refreshed and reenergized. I was excited to get going and make new music."
The result is Waking Up Laughing, her ninth studio release. Martina produced the record over an eight-month period-a timetable most artists aren't afforded, she admits, and the luxury she enjoys most about having her own studio. "I've never been one of those people who could make a record in two or three weeks. I don't know why, but I really have to live with things. I like to think about it, listen to it in the car, just sort of let the ideas come to me rather than trying to get it done quickly."
Her biggest decision was that of making herself solo producer on her first album of original material in four years. "It was a gut decision, kind of like I make all my other decisions. It just felt like the right time to do it by myself ... It wasn't like I wanted to work with anybody else, and Paul [Worley] (Martina's longtime co-producer) was around for me to call and ask questions if needed. We're still really close friends-he brought me several songs and played on some of the tracks."
Since she has always co-produced her albums, the only real differences "were just psychologically having it be all mine as well as having the time and freedom to work at my own pace."
After choosing several songs, Martina headed into the studio with some of the finest studio musicians Nashville has to offer, including drummer Matt Chamberlain; percussionist David Huff; bass player Glenn Worf; Steve Nathan, piano, synth and B-3; guitarists Dan Dugmore (also steel guitar and dobro), Dann Huff, B. James Lowry, Brent Mason, and Bryan Sutton (also mandolin); and several well-known harmony vocalists, including Keith Urban, Brett Warren and Carolyn Dawn Johnson.
For more information on the biography of Martina McBride visit http://www.martina-mcbride.com/bio.shtml.