Everett Revenge: Ex-Hawks lead Fever to 48-39 win over Everett
Posted:
Updated: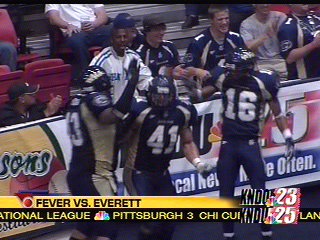 KENNEWICK, Wash. - Only a few minutes after the game began, it became evident that an in-state rivalry was formed between the Tri-Cities Fever and the Everett Hawks. After the first quarter, the Fever took an early 16-6 lead behind back-to-back touchdowns to WR JR Thomas. The Everett Hawks would not give up and closed that gap to 4 (36-32) by the end of the third quarter. However, with 2:11 left in the game, Robert Garth caught an incredible one-handed 33 yard touchdown pass that extended the score to 48-39. That was how the game would end.
In front of a home crowd of 3,415, WR JR Thomas and WR Robert Garth put on a show. Thomas finished with 9 receptions for 115 yards and 3 TDS earning him the Schutt Offensive Player of the Game. Garth had very similar numbers finished with 7 receptions for 110 yards and 3 TDS; as well as an interception for 14 yards, which earned him the US Army Ironman Player of the Game. Baker finished with 7 TD passes. Baker, Thomas, and five other Fever players played for the Fever last year, while coach Tony WQells coached there in 2006.
"I loved the people in Everett which made this game tough, but my loyalty now is with the Tri-Cities area," said Wells.
The win pulls Tri-Cities Fever to a .500 record and makes them a legitimate threat in the American West Division. The Everett Hawks dropped to 0-4. Next up for the Fever is Saturday's home game against Stockton. The game will be broadcast on KNDU and KNDO.
.
Score by Quarters 1 2 3 4 Score
Tri-Cities Fever 16 14 6 12 48 Record: (2-2)
Everett Hawks 6 14 12 7 39 Record: (0-4)
Everett TRI
Score......................... 39 48
FIRST DOWNS................... 20 19
RUSHES-YARDS (NET)............ 9-7 11-3
PASSING YDS (NET)............. 219 271
Passes Att-Comp-Int........... 50-26-2 35-22-1
Fumble Returns-Yards.......... 0-0 0-0
Kickoff Returns-Yards......... 3-36 4-74
Interception Returns-Yards.... 1-0 2-14
Fumbles-Lost.................. 2-1 1-1
Penalties-Yards............... 13-83 10-97
Possession Time............... 32:56 27:44
Third-Down Conversions.......6 of 11 3 of 8
Fourth-Down Conversions......2 of 5 1 of 2
Red-Zone Scores-Chances....... 3-4 2-3



Everrett Hawks Tri-Cities Fever

Rushing No Yds TD Lg Avg Rushing No Yds TD Lg Avg
Notoa, Vai 5 16 0 6 3.2 Rogers, Byron 2 13 0 15 6.5
Campbell, Jason 2 -1 0 3 -0.5 Walters, Matt 1 3 0 3 3.0

Passing AttCmpInt Yds TD Lng Passing AttCmpInt Yds TD Lng
Campbell, Jason 28-16-1 120 4 20 Baker, Brian 35-22-1 271 7 38
Bowling, Ben 22-10-1 99 2 31

Receiving No. Yds TD Long Receiving No. Yds TD Long
Goodman, Phil 9 82 2 20 Thomas, JR 9 115 3 25
Richley, Josh 7 45 1 14 Garth, Robert 7 110 3 38
Brown, Marvin 5 46 1 14 McFadden, Leroy 4 25 0 12
Jones, LaMonte 3 54 2 31 Shine, Willie 1 14 0 14
Notoa, Vai 1 3 0 3 Walters, Matt 1 7 1 7
Pratt, Markus 1 -11 0 0

Interceptions No. Yds TD Long Interceptions No. Yds TD Long
Pratt, Markus 1 0 0 0 Rushard 1 0 0 0
Garth, Robert 1 14 0 14

Kick returns No. Yds TD Long Kick returns No. Yds TD Long
Goodman, Phil 1 1 0 1 Beckles, Emery 4 74 0 24