Fever Offense Rolls into Stockton Game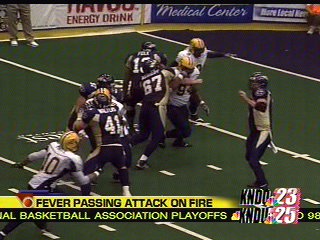 KENNEWICK, Wash. - The Tri-Cities Fever is basically made up of all new players this year, but that hasn't stopped these guys from coming together and forming one of the top offenses in the AF2. The Fever average 280 passing yards a game, which is third-best in the league. In the win over Everett Monday night, Brian Baker had seven touchdown passes. Baker leads the league in passing yards a game with 285.8 through the teams first four games.
JR Thomas is fifth in the league in scoring with 76 points on the year, which includes12 TDs. The offense is more than just Brian Baker to J.R. Thomas.
"Baker to Garth, Baker to anybody," said coach Tony Wells. "We've got to work on our protection a little bit, but I think we're going to be a pretty good team."
"We're starting to click, starting to jell," said Thomas. "We just need to carry it over to Stockton next week."
The Fever (2-2) were without center Frank McCray Monday night. He's still questionable for Saturday night. Without him in the lineup Monday, the Fever allowed 5 sacks.
Saturday's game against 1-3 Stockton is at 5:00, broadcast on KNDU-TV and KNDO-TV.