Randy Travis
Posted:
Updated: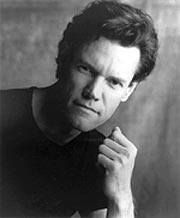 Randy Travis will perform Thursday night August 23rd at 7:30pm on the Main Stage.
BIOGRAPHY:
Born on May 4, 1959, Randy Bruce Traywick was the second of six children. Randy's father, Harold, always wanted him to become a country singer, filling the house with the sounds of Hank Williams and Stonewall Jackson albums. Harold bought his four sons western outfits and guitars, and promoted them locally as the Traywick Brothers. By the time Randy was ten years old, he and his brother, Ricky, had their own duo, playing throughout the South at fiddler's conventions, private parties, VFW halls and anywhere and everywhere they could draw a crowd. Even at his young age Randy's voice startled people with its resonance. He dropped out of school in the ninth grade, and after that-fast cars, drinking and drugs lead to a series of scrapes with the law.

At age 16, Randy entered a talent show hosted by Country City USA as a soloist. After winning the competition hands down, he was invited by the club owner, Lib Hatcher, to play regularly at the famed night spot. He then relocated to Charlotte. It was a stint that lasted the better part of five years with Randy first performing on week-ends and eventually full-time. Hatcher took over management of the fledgling singer and in the late 70's Randy recorded two singles for Paula Records, "Dreamin'" and "She's My Woman" with Joe Stampley producing.

In 1981 Randy made the move to Nashville, commuting regularly to Charlotte to perform at Country City, USA. He spent most of his time writing songs and getting acquainted with the Nashville scene.

Eventually Hatcher began management of another club, The Nashville Palace, where Randy worked cooking catfish and washing dishes, as well as singing on stage. It wasn't long before he had developed a following there as well, changing his stage name to Randy Ray. The exposure lead to appearances on Nashville Now and Nashville After Hours. His Nashville popularity grew by increasing word-of-mouth as people touted him as an outstanding newcomer. In 1983 while performing at the club, Randy recorded his first album independently and called it, "Randy Ray-Live at the Nashville Palace." The album was mostly sold at the club between shows and is now a collector's item and out of circulation.

Turned down by nearly every record label in Nashville, often more than once, Randy was finally signed to Warner Brothers Records in 1985. Record company executives changed his name to Travis, and Randy's first recorded effort for his new label was "Prairie Rose," on the soundtrack to the film, "Rustler's Rhapsody." It was followed by the release of the album, "Storms of Life" in 1986, and the rest is country music history. The first single, "On the Other Hand," was a perfect slice of Randy's authentic country talent. "1982" followed, and with that hit, Randy established himself as a singer and performer in the grand tradition of George Jones, Lefty Frizell, Merle Haggard and a handful of others. The success of both singles led to wide-spread demand for live shows, and Randy next set out on an extensive and ongoing tour, taking him across the United States and Canada before record-setting crowds.

Soon it seemed every award in the music business had Randy's name on it. A string of country chart-toppers ensued, and by the end of the decade, Randy's record sales topped 13 million copies. During a break from touring in 1991, Randy married his longtime manager and friend, Lib Hatcher in a quiet ceremony on the island of Maui, Hawaii.

In the late 1980's, Randy opened the floodgates for the new traditionalist movement in country music. With 22 number one hits, 6 number one albums, 5 Grammy's, 6 CMA's, 9 ACM's, 10 AMA's, 6 Dove Awards, and a star on the Hollywood Walk of fame, Randy is the rare lucky man who has been able to make all of his dreams come true.