Working the Chains is a Dangerous Assignment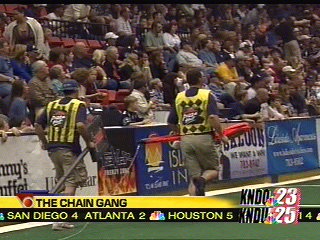 KENNEWICK, Wash. - Getting slammed into the wall is part of the game, but not everybody gets to wear pads. John Bozich and Max Hilty are two members of the chain gang, which risks life and limb for no money at all.
"I've done this for three years now," said Hilty. "There's been a couple of times they reverse field and I have to jump over the wall and land in some guys lap. Hope I don't hurt them."
"I've never been hit," said Bozich. "I've jumped over the boards a few times. On a turnover, everyone heads our way.
Just like the ball boys in the orange vests, they stand at the ready, constantly jumping into the stands and out of the way. So what goes through their minds at the moment of truth?
"I never thinking about tackling them, that's for sure," adds Bozich. "The main thing is to get out of the way. All I got is a yellow vest on, that's it."
"I kind of freeze, figure out 'which way do I go?' flip my legs over, and just hope I don't kick anybody, said Hilty.
Hilty's son Hayden is a ball boy this year.
"I'm more scared than he is. He'll be watching the play and not paying attention. I gotta shove him to get out of the way.
Max has another son who works on the bench during the home games.
"My family enjoys it, they watch the three of us work. My wife doesn't get scared, she laughs at us, and says 'that was kind of close.'"