Local Gymnast Recovers from Appendectomy, Heads to Jr. Olympic Nationals
Posted:
Updated: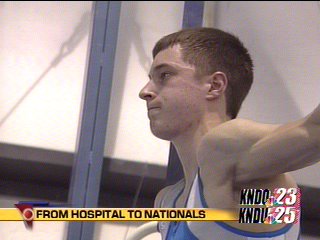 KENNEWICK, Wash. - Sam Softich will leave Wednesday for the Junior Olympic National Championships in Oklahoma City, but less than two weeks ago, he was on a hospital bed. After training all year to improve on his 20th-place finish in 2006, his body threw him a curve.
"I woke up Sunday morning, ate some food, and puked it up," recalled Sam. "My mom noticed the symptoms, because my brother had the same thing. She took me in , and I had appendicitis. I was like 'Crap!' Knew I had nationals. A lot of thoughts went through my head, none of them positive."
"We invested a whole year into getting here,," said his coach and father Joe Softich. "It was hard not to think about that for either of us."
But there was good news, the appendix did not burst, meaning it could be removed laparoscopically. This type of surgery is less invasive. Doctors told Sam he'd have to rest for a week. That may sound like a short time, but for Sam, it was terrible news
"After months and months of building up muscle, you can have atrophy. After just 24 hours, you start to lose your muscle. Everything I've gained over the months, I could lose in four days.
We explained our situation, and the doctor said Thursday. So we did it Wednesday."
That means young Sam left the hospital on a Monday, and after losing an organ, was incredibly back on the mat just two days later. That all happened last week, and now Sam is almost back to where he left off. He'll leave for Oklahoma City tomorrow.
"I'm At 100 percent physically, but losing that week physically, making sure I can do the reps, that was lost."
"We thought it was all over and you worry about next year," said Joe. "It's very inspirational that you could put that out of your mind and do the routines and be there. It's amazing.
Training partner Berlin Sudduth of Richland High will also compete at Oklahoma City.