Green Bay Game Personal for Garth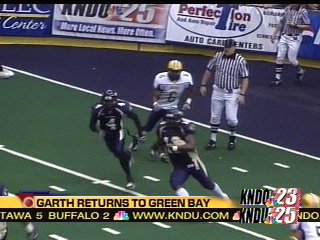 KENNEWICK, Wash. - Friday night in Green Bay is the game Robert Garth has been waiting for. The Fever's most consistent player on offense and defense spent the past five years playing the same role for the Blizzard. He helped carry the blizzard to the AF2 title game last year. This year, Garth has been fantastic for the Fever. He's the second-leading receiver with 9 touchdowns, and also as a linebacker he's one of the top defensive players. Going back to his old stomping grounds will be pretty fun.
"There's gonna be some trash talking," said Garth. "That's what I do. I called the QB over there. I let him know we was coming after him. But it's all good-natured. As far as Arena 2 goes, we're all a fraternity, all family. When it's over, we can all go out and enjoy ourselves."
"I gotta calm him down," said coach Tony Wells. "He's already talking. Dude, slow down. Garth is Garth. He's gonna come out to play, but this means even more to him. He was there five years. We're gonna rally around him. We know this game is special for him, so we're gonna do some things to get him involved."
The Fever (3-2) kickoff with Green Bay (2-3) at 5:30 Pacific.