Donkey Basketball at Eisenhower
Posted:
Updated: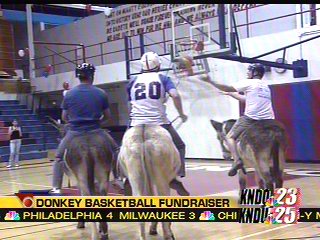 YAKIMA, Wash. - It wasn't your typical night at the Eisenhower High School gym. Donkeys took over the floor for a charity donkey basketball game, all to help out two good causes.
The crowd on hand raised money for Ike sophomore Shayla Holwegner, who is battling bone cancer. Holwegner is currently in Seattle receiving chemotherapy. "She's pretty adamant about beating it," her volleyball coach Brad Ackerman said.
The 2,800 dollars raised also will help Ike Security Monitor John Gilmore, who's son Dusty recently fell and broke his neck. The successful and hilarious evening was organized by two Eisenhower students who wanted to lend a hand. Kayla Dean and Alyssa Sherbey were looking for fundraiser opportunities, and loved the recommendation from one of their teachers.
"Once I found out about it, it sounded really cool," said Dean. You have people riding around on donkeys, playing basketball! How cool is that? So we chose to put it all together. It took a lot of effort, but we got it going."
Eisenhower's staff battled the staff from West Valley High School, then some students from each school took a turn on the donkeys. West Valley was invited to increase support for Dusty Gilmore, a former WVHS student.
Dusty's father, John, was very grateful. "Originally it was these fine girls had heard my son had injured himself, and we had some medical expenses. Then we heard about Shayla, and I went up to them and said 'She's gonna have more medical expenses than me.'" So ahead of time it was decided that the two parties would split the proceeds.