Fever Trade for WR Deontrae Johnson
Posted:
Updated: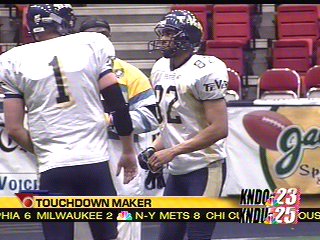 KENNEWICK, Wash. - Coming off a season-low 18 points, Fever coach Tony Wells has beefed up his offense. He wasn't able to bring in any more lineman to help out the injured offensive line, but he did get one of his former receivers. The Fever traded future considerations to Cincinnati for receiver Deontre Johnson, who was leading the Jungle Kats in receiving this season. Johnson practiced Wednesday and will start Saturday at Bakersfield. Usual starter Leroy McFadden is on the injured reserve with a groin injury,.
Johnson is just the latest in a large number of ex-Everett Hawks to follow former Hawks coach Tony Wells to the Tri-Cities. Last year, Johnson was catching TDs from Brian Baker, and hopes do that again on Saturday.
"I'm really comfortable having JR (Thomas) and Baker in there," he said. "I know that if I just go through the motions and I'm in the right place at the right time then every thing will work out. I'm happy to be back with Wells, because I'm just starting out and he knows a lot about the game. He'll be able to teach me a lot so I can get to that next level."
Last year in Everett was Johnson's rookie year. He played well enough to earn some high praise from Wells, who needed a polished receiver. "Leroy went down and nobody really stepped up in his spot," said Wells. "Deontrae is one of those guys that will step up. With him there won't be a drop-off."