Richland Remembers Liz Duncan
Posted:
Updated: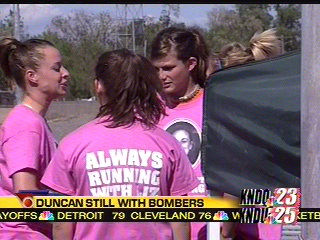 PASCO, Wash - Richland High School's colors are green and gold, but this weekend the girl's track team is going pink. If you happen to stop by Edgar Brown stadium this weekend for the 3 and 4-A state track meet, you may see the Bomber girls in their bright pink t-shirts, sporting a picture of Richland alum, Liz Duncan.
About a month ago, Liz was running down the sidewalk, continuing to do what she loved best. After all, Duncan was a star on the Richland track team in the late 1990's. She was a member of the school record-setting 4x4 relay team, and just an all-around great girl. But this one day, a freak accident took Liz's life. As she jogged down the sidewalk, a young driver lost control of their car as they drove down a hill, striking and killing Liz.
"Life is short, run long," is the motto Liz lived by, and the Richland team saw it as the perfect mantra to inscribe on their shirts. The shirts are an emotional reminder of a teammate lost, but no one took the news harder than triple-jumper Lindsay Roberts.
"It was really hard at first. I was struggling in school and people were talking about it all the time," Lindsay choked out as she fought to hold back the tears pouring down her cheeks, splattering on the t-shirt with Liz's picture. Roberts holds Liz in a special place because Liz's parents are Lindsay's Godparents. Lindsay tried to stay strong when talking about her friend, as her coaches joked in the background, "You know she's (Liz) laughing at you right now getting interviewed on t.v.!"
And eventually Lindsay was laughing too as she thought about the support Liz would give her and the Richland team all this weekend. "This weekend is for Liz," said Roberts, as she attempted a smile and turned her concentration to how she planned to win for her friend.