By Gary D'Amato
Cabrera improbable victor on brutal course
Posted:
Updated: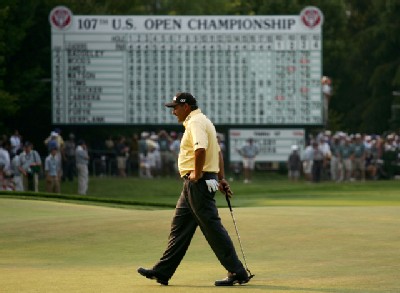 Harry How/Getty Images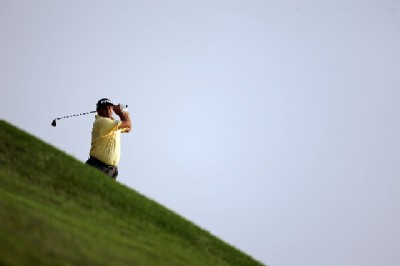 Ross Kinnaird/Getty Images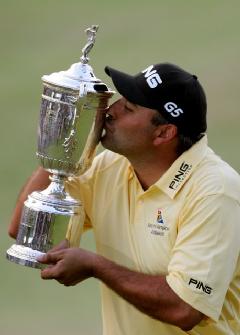 Donald Miralle/Getty Images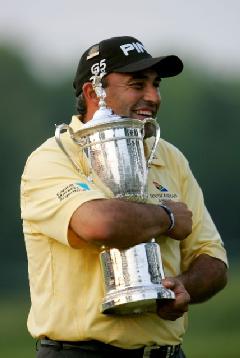 Chris Mcgrath/Getty Images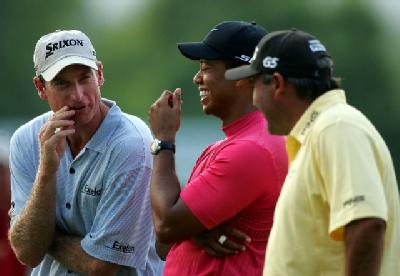 Donald Miralle/Getty Images
It's a long way from Cordoba, Argentina, a small town near the foothills of the Sierras Chicas mountains, to the top of the golf world. On Sunday, Angel Cabrera beat enormous odds and reached the summit. The elementary school drop-out, who caddied as a teenager to put food on the family table, won the 107th U.S. Open Championship after a wild final round that at various points saw six different golfers hold or share the lead. Cabrera shot a 1-under-par 69 at Oakmont Country Club and then had to wait 40 excruciating minutes in the clubhouse while Tiger Woods and Jim Furyk tried desperately to catch him. "I was definitely feeling nervous," Cabrera said. "I knew that I could do no more to lower my score so I was only waiting and hoping." In the end, it came down to Woods, the No. 1-ranked player in the world. He needed to birdie the 18th hole to force a playoff but his curling 35-foot putt trickled slowly and harmlessly past the right side of the cup. Cordoba, watching on television and fidgeting with the cap from an energy drink, leaped to his feet and embraced his caddie. "I watched all the majors on TV when I was a kid and I never thought I would be here at this moment," he said. "It is very difficult to describe this moment. Probably tomorrow, when I wake up with this trophy beside me in my bed, I will realize that I have won the U.S. Open." Cabrera's victory is one of the most improbable stories in recent golf history. The gregarious 37-year-old Argentine caddied at Cordoba Golf Club, turned pro at 20 and set off on a journey that led to a career-defining victory on a brutally difficult golf course in western Pennsylvania. He steered clear of dozens of final-round crashes and pile-ups on perhaps the toughest-ever U.S. Open set-up and joined Roberto de Vicenzo (1967 British Open) as the only major champions from Argentina. He also became only the 12th non-American to win the U.S. Open and the first to give his acceptance speech through a translator. Cabrera finished at 5-over 285 and beat Woods (72) and Furyk (70) by one shot. Cabrera had two of the eight sub-par rounds in the championship. Woods, meanwhile, came up short in a second consecutive major in which he held or shared the lead in the final round. Not long ago, players backed up when Woods' name went to the top of the leader board, but that isn't happening anymore. At the Masters in April, Zach Johnson outplayed Woods down the stretch to win. This time, it was Cabrera's turn. "I beat everybody," he said, "not only (Woods)." Woods remained stuck on 12 victories in the majors, six behind Jack Nicklaus' record of 18. "Finishing second is never fun," he said. "You play so hard and it's just disappointing. ... I certainly played well all week. I just need to analyze it and see where I went right and see what went wrong." He wasn't the only one left scratching his head. Furyk made consecutive birdies on Nos. 13, 14 and 15 and was tied for the lead with Cabrera until a questionable play off the tee on the short par-4 17th resulted in a bogey that cost him the title. "No one likes consolation prizes," Furyk said. "I was proud of the way I played but, you know, second is not that much fun, to be honest with you." The three other golfers who held or shared the lead all imploded. Aaron Baddeley, who took a two-shot lead into the final round, three-putted from 8 feet on the first hole for a triple-bogey. He added a double-bogey on No. 7, shot an 80 and tumbled to a tie for 13th. Stephen Ames got to the top of the board, looked around, and made a triple-bogey on No. 7 and a double on No. 9. He shot a 76 and tied for 10th. Steve Stricker made three birdies in a four-hole stretch on the front nine before back-to-back double-bogeys on Nos. 10 and 11 ended his chances. He shot a 76 and tied for 13th. Cabrera started the day four shots behind Baddeley but birdied Nos. 4 and 5 and moved to the top of the leader board. He briefly fell one stroke behind Ames but after he birdied No. 8 he never trailed again, though his bogeys on Nos. 16 and 17 left the door ajar for Woods and Furyk. "Angel played a beautiful round of golf," Woods said. "He put a lot of pressure on me and Jim and we didn't get it done." Furyk birdied No. 15 to tie Cabrera but then made a strategic mistake on the 313-yard 17th. He hit driver and missed the green in ankle-deep rough to the left, leaving an impossible up-and-down to a short-side pin. His first gouge came up short of the green and he wound up missing a 10-footer for par. "I was kind of surprised he went with driver, as good a wedge player as he is," said Stricker, who was paired with Furyk. Furyk defended his strategy. "The no-no is to go left, but I haven't hit a ball anywhere within 20 yards of where that ball went," he said. "I was shocked to see how far it went. I didn't realize from the tee box I put myself into that poor of a position." The bogey knocked him a stroke behind Cabrera and his birdie attempt from the back fringe on No. 18 never had a chance. Woods made a clutch 8-foot par-saver on No. 17 to stay alive but then missed his final birdie chance on No. 18. Cabrera, whose nickname is "Pato" (or "Duck" in English) had won 15 tournaments around the world but none in the United States. His best previous finish in a major was a tie for fourth at the 1999 British Open. "I feel great," he said. "It's a great moment for me. I can't believe it."
BIRDIES AND BOGEYS
Bogey:
Phil Mickelson could have handled his exit interview a little better Friday. After missing the cut, he criticized the course set-up, saying the thick rough was "dangerous" and hinting that the United States Golf Association was indirectly responsible for his wrist injury. "It's disappointing to dream as a kid about winning the U.S. Open and spend all this time getting ready for it and then have the course set-up and the injury, you know?" Mickelson said. But the USGA didn't force him to spend hours practicing shots out of the rough three weeks before the Open. That's when he suffered the injury, which he described as soft-tissue inflammation. In golf, that's called "rub of the green."
Birdie:
Anthony Kim, 21, the youngest rookie on the PGA Tour, found out the hard way that patience is a virtue at the U.S. Open. But his closing 67, low round of the day, stamped him as a player to watch in the majors. "All the veterans told me, 'Be patient. Be patient. Be patient,' " Kim said. "But it's so easy to lose it out there. I think the USGA tries to drive you crazy." Kim struggled to a third-round 80 but birdied Nos. 17 and 18 in the final round for his 67. "I feel like I just got out of the ring with Mike Tyson," he said.
Bogey:
Geoff Ogilvy, the defending champion, was frustrated after shooting 75-78-75 the last three rounds and joined Mickelson in criticizing the USGA, albeit for different reasons. Mickelson complained about the rough. It was the fairway bunkers that got under Ogilvy's skin. He said too many of the bunkers offered no chance for a recovery shot. "It doesn't matter if you're good or not out of them," he said. "We should just add one shot and drop it in the fairway and go. It's just frustrating. If you miss a shot by a yard it's a one-stroke penalty. "I'm not saying I'm a great fairway bunker player. It narrows the gap between the guy who's really good at something and the guy who's really bad at something because an 18-handicapper can hit the shots that I'm hitting."
Birdie:
Two months after tying for fifth at the Masters, his first-ever top-10 finish in a major championship, Jerry Kelly tied for seventh at the Open. "I hit it great most of the day," he said. "I had so many good (birdie) chances, real chances. I did what I wanted to do. I put myself in position. I could have made seven or eight birdies out there." Kelly finished five strokes behind Cabrera. Before this year, he had never finished better than 20th in a major. "I'm just starting to think of myself as someone who can contend in a major," he said. "I always thought I had the game but I didn't have the mental skills to contend in a major. I think my mental side is coming along right now."
Birdie:
Was the set-up at Oakmont fair or unfair? And what's the definition of "unfair" if everyone has to play the same course? Ian Poulter got it right when he said: "What are you going to do? Say it's unfair, let's chuck in the towel and go home? It's been set up the way it's been set up and let's get on with it. There is no point bitching and moaning that it's a difficult golf course because it is a tough golf course and it is not supposed to be easy."
On the horizon:
The Travelers Championship at TPC River Highlands in Cromwell, Conn. Mickelson entered, but withdrew on Monday due to the injured wrist. The field is surprisingly good for the week after a major and includes Johnson, Vijay Singh, David Toms, Darren Clarke and Padraig Harrington.
Parting shot:
Oakmont more than lived up to its reputation as the toughest course in America. The four-round scoring average was 75.720 and the field made three times as many bogeys (2,326) as birdies (778). In addition, there were 383 double-bogeys and 37 "others." For more sports coverage, visit
http://www.nbcsports.com?aff=kndo