By Mike Purkey
Woods, Furyk missed chances to reel in Cabrera
Posted:
Updated: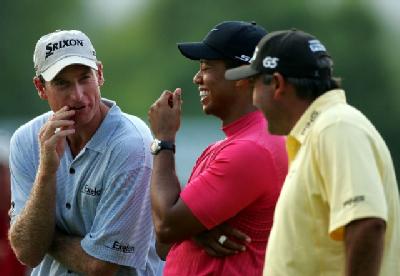 Donald Miralle/Getty Images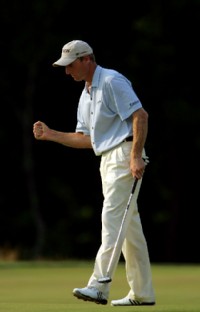 Chris Mcgrath/Getty Images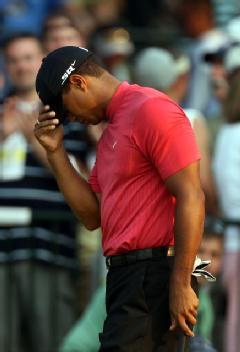 David Cannon/Getty Images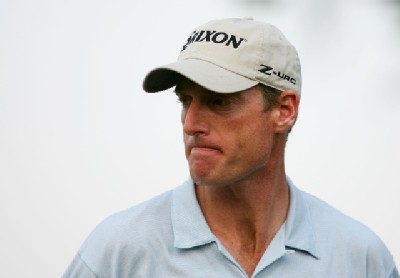 Ross Kinnaird/Getty Images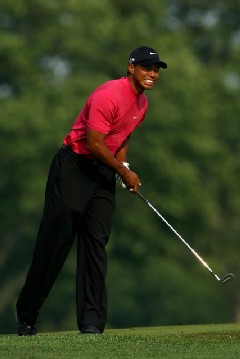 Donald Miralle/Getty Images
Make no mistake, Angel Cabrera deserved to win the U.S. Open. He shot 69 in the final round on a day when nearly all of the leaders kept backing up so far they were in danger of falling off the Oakmont Country Club bridge right into the middle of the Pennsylvania Turnpike. But make no further mistake, Tiger Woods and Jim Furyk deserved to lose. Both had chances to take Cabrera into a Monday playoff and we all know who'd be the favorite over 18 more holes. It's not that Cabrera is a disappointing champion. He led the Open after 36 holes and made a stirring comeback in the final round after seemingly shooting himself out of it with a 76 in Saturday's third round. He is a world-class player who has been on the fringes of joining golf's elite. This victory will drag Cabrera from the shadows into the spotlight for quite a while. He hit some magnificent shots on Sunday, hitting irons close to the hole at the par-four 11th and especially at the 500-yard, par-four 15th, a three-foot birdie putt that gave him a three-shot lead, with only three holes left for him to play. But that's where things started to come unraveled and opened a door that neither Woods nor Furyk cared to walk through. While Cabrera made bogeys at the par-three 16th and the short par-four 17th, Furyk was busy making three straight birdies to pull even with the leader. Inexplicably, Furyk took driver at the 303-yard 17th when a 5-iron lay-up would have been more than sufficient. Instead, he pulled his tee shot to the left of the green in some impossibly high rough. He couldn't dig the ball out of the rough and failed to reach the green. His third shot sailed 15 feet past the flag and he lipped out his par putt to fall one shot behind. Amazingly enough, Furyk defended his club selection on the 17th tee and said he'd do it again. As for Woods, he couldn't putt it in the ocean if he hit the ball from the deck of a boat. He made nothing with his putter all week and backed up with a final-round 72. Still, he had his chances. He had a wedge in his hand for his second shot at the par-four 11th and dumped in into the greenside bunker and made bogey. He was next to the green at the 667-yard, par-five 12th and failed to make birdie. He missed short birdie putts at the 13th and 14th. And he couldn't get up and down for birdie from the greenside bunker at the 17th. Woods is a couple of shots away from his second Tiger Slam. After winning last year's British Open and PGA Championship, he tied for second behind Zach Johnson at the Masters and finished one shot behind Cabrera at Oakmont. PGA Tour players are notoriously in denial when it comes to self-analysis. They will always say they played well, but their scores don't reflect how they played. Woods and Furyk on Sunday were no exceptions. It's true that Furyk shot even par over the last 36 holes and no one in the field was better over that stretch. It's also true that Woods hit some remarkable shots over the final nine holes and didn't get anything out of it. They also talk much about "putting themselves in position" down the stretch of championships but being in position and not winning is just as meaningless as finishing in the top 10, one of the most useless statistics in golf. Champions find ways to get the ball in the hole at the right time and neither Woods nor Furyk were able to summon what was necessary at the right times to win, or at least force a playoff. That leaves Cabrera, who had a reputation on the European Tour for not being able to finish a tournament, once he held the lead late on Sunday. It looked for a while like he might fulfill that lack of potential on Sunday when he bogeyed the 16th and 17th, squandering a three-shot lead. But he piped a tee shot on the 18th and hit his second 30 feet past the hole. An easy two-putt and some minor sweating as Furyk and Woods both failed to make birdie at the last and Cabrera was ready to start the celebration. Cabrera was asked who was the bigger celebrity in Argentina at the moment-Manu Ginobli of the NBA Champion San Antonio Spurs or Cabrera the U.S. Open champion. He didn't need an interpreter for that one. "Ginobli," he said with a big smile. Cabrera might want to check the papers Monday and he will find a different answer. For his shot at celebrity, however long it lasts, Cabrera will have to send thank-you notes to Woods and Furyk for such a neatly-wrapped gift.
Mike Purkey has been covering professional golf for more than 20 years for a variety of publications, including GOLF Magazine. He is a former president of the Golf Writers Association of America and is a frequent contributor to NBCSports.com.
For more sports coverage, visit
NBCSports.com