Flatbottom driving experience helped Mike Allen, Dave Villwock
Posted:
Updated: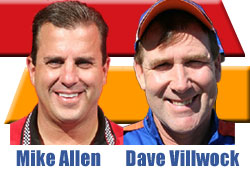 Flatbottom driving experience helped Mike Allen, Dave Villwock

More>>
Some of the new drivers on the circuit this year share an interesting pedigree with U-1's Mike Allen & U-16's Dave Villwock: experience driving flatbottom boats.
"From my standpoint, it's similar," said 2006 rookie of the year Mike Allen. "In a flat bottom, you control the boat with the left pedal... up and down pedal just like the unlimiteds."
"Years ago," said flatbottom veteran and Unlimited Hydroplane vet Dave Villwock; "most all hydroplanes were adjusted from the beach and the driver stepped on the gas." But that's changed. While the pre-race set-up is critically important, the driver plays a bigger role with the Unlimiteds.

"Now, the boats are being flown by the driver using his left foot - just like we did with flatbottoms," Villwock said. "The driver has to be very sensitive about how the boat feels. Just like the flatbottoms, feeling the attitude and adjusting the attitude. Hydro guys didn't do that until recently. Now they do." Having that experience can give someone a jump start.
It's a long standing debate in powerboat racing circles regarding the difficulty of driving a flatbottom versus a hydroplane style hull.
It's worked before. Most notable are Dave Villwock. George Stratton and George Woods were also K-Boat racing champions before switching to the Unlimited Hydro class. And each holds memorable rankings in the Unlimited Hydroplane history books.
Villwock first personally introduced Mike Allen to the Unlimited Hydro class. "When I got the phone call from Dave at the beginning of the 2004 season, the Unlimited Hydro class was simply a curiosity to me" according to Allen. "I knew Dave from racing Super Stocks and he called and asked if I'd be interested in being his back-up driver. Up to that point, I was certainly aware of the Unlimited Hydros but never thought I'd have the opportunity to drive one".
Allen raced 5 Litres together with teammate Mike Weber. "The thing that Mike brings is flat bottom experience which is one of the things that makes Dave Villwock the driver he is," said Weber.
"In a flat bottom you drive with your left foot like you do in an unlimited," Weber explained; "You're controlling the other end of the boat, but basically doing the same thing. You give the boat lift or give it down force with your left foot. I think that's going to make the transition easier for Mike."
Allen sure made it look easy in his first season as an Unlimited driver. He won rookie-of-the-year and led his team to the National High Points team championship. "It seemed like a natural progression to fly the boat with the left foot," he said. "I thought it was a natural progression."