By Lou Somogyi
Weis slowly building quality depth with Irish
Posted:
Updated: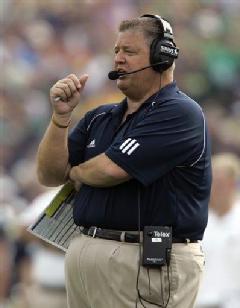 Michael Conroy/AP
There probably isn't a word in sports more misused and misconstrued than "depth." The word is generally equated with sheer volume rather than relative parity among the personnel. Exhibit A is Notre Dame's 2006 situation at linebacker. The Irish were classified as "three deep" at linebacker in the 4-3 alignment during the spring -- and that wasn't even including incoming freshmen Toryan Smith and Morrice Richardson. With them, there were 11 scholarship linebackers on the roster.
But just because you had numbers didn't mean you possessed depth, which is why running back Travis Thomas had to be shifted to a starting linebacker role even though he hadn't played the position in four years. In retrospect, the move had a tone of desperation and was a red flag for the Notre Dame defense.
"True depth" is what Notre Dame had during Lou Holtz's halcyon years from 1988-93. That was an era when 1988 All-America linebacker Michael Stonebreaker was backed up by 1987 All-America Ned Bolcar. It's when speedster Reggie Brooks played defense for one year because the backfield featured luminaries such as Ricky Watters, Tony Brooks, Rodney Culver, Jerome Bettis...with "Rocket" Ismail used as a finisher, forcing future Pro Bowl player Dorsey Levens to transfer to Georgia Tech. It's when offensive guard Tim Grunhard was backed up by a future pro (Mike Brennan) or a future All-American (Mirko Jurkovic).
In other words, it's what USC is right now. The Trojans had nine quality tailbacks this spring -- and that's before the enrollment of vaunted blue-chips such as Joe McKnight and Marc Tyler. At quarterback, USC has gone from Heisman winner (Carson Palmer) to another (Matt Leinart), and potentially to a third (John David Booty), with former No. 1 ranked signal-callers such as Mark Sanchez and Mitch Mustain waiting in the wings. Even a recent Trojan reserve QB such as Matt Cassel has been the top backup for Tom Brady in the NFL. Notre Dame has no such depth, for now, under Charlie Weis. With nine fifth-year seniors, six fourth-year seniors and 14 juniors, the Irish have only 29 total players in their top three classes, giving a feel of self-imposed probation. Elite programs such as USC, LSU, Florida, Texas, Ohio State, et al have assembled four and five consecutive years of stellar, consistent recruiting. Under Weis, Notre Dame has put together two, and is in the midst of a third next February. It's getting there, but 2008 or maybe 2009 might be the time when the Irish possess the necessary depth, combined with tangible experience, to make a legitimate, consistent run for college football's brass ring. Even last year, Notre Dame had Top-10-caliber personnel from players 1 through 25. The problem was when you dipped into players 26 through 50, there was a precipitous drop-off -- one not as pronounced at the aforementioned schools. "We've been in the high 60s and low 70s as far as guys on scholarships -- we haven't been anywhere near (the NCAA maximum) 85," Weis noted. "After this year's class (which will be signed in February of 2008), we're going to be there for the first time in our career, a full deck. That's not finger-pointing at anyone else, that's just the way it is." Again, though, Weis contends it's not so much about numbers as it is getting the "right numbers" for intense competition at each area. "You don't need 85 guys to play for a national championship," Weis said. "In the NFL you play a 16-game season, plus playoffs, and you go to a game with 45 players, 46 for a third quarterback...another five on a practice squad. That's all you've got, and no one ever complains about that. What's the big deal if you have 70 or so?" The big deal has been the lack of "quality depth." In Weis' debut season with the Irish, Notre Dame had a paltry four offensive linemen from three classes: two from 2003 (Ryan Harris and John Sullivan), none from 2004 and two from 2005 (Paul Duncan and Mike Turkovich). That year, the Irish had only six offensive linemen who were primed to play, and rotated Bob Morton at center and guard to give at least one interior player a breather. At the end of the year, Weis admitted he was knocking on wood all season in the hope that no one along the offensive line would get injured. Consequently, the Irish signed six offensive linemen in 2006, led by Sam Young, to replenish that area. This spring, Weis noticed a vast difference as far as parity along the offensive line. For example, sophomore Matt Carufel lined up at No. 1 right guard at the end, but classmates Dan Wenger and Eric Olsen were providing excellent competition -- enabling yet another guard, Chris Stewart, to audition at nose tackle. Duncan saw some quality minutes behind Young at right tackle last year, and if Duncan goes down at left tackle, then maybe No. 1 left guard Turkovich, the backup left tackle to Ryan Harris last season, could shift over, and one of the rising sophomores could slide into Turkovich's spot. Even at center, Weis noted the development of Northwestern transfer Thomas Bemenderfer behind fifth-year player Sullivan -- yet Wenger could be next in line at center in 2008 given the progress at guard. "The offensive line this spring, there wasn't a big difference between the first and second guys, you had more contenders," Weis said. "When you have more contenders, that means you no longer are going into a game playing only six guys. You might have 10 guys to play now -- not that you're going to play 10. But at least now if somebody goes down, you're not going to throw in the towel and say, 'What are we going to do now?'" There have been several areas where Notre Dame has been building A-1 depth under Weis. Tight end has been one of them. Even when All-America candidate John Carlson graduates after the 2007 campaign, the Irish will be replete with stellar candidates such as Konrad Reuland, Will Yeatman and Mike Ragone, not to mention incoming blue-chips Kyle Rudolph and Joseph Fauria. Besides the offensive line and tight end, other positions that have been notably upgraded in recent years along the recruiting trail, at least on paper, have been cornerback (Darrin Walls, Raseshon McNeil, Munir Prince and Gary Gray in the sophomore and freshman classes alone), running back and quarterback. In bygones years, Notre Dame's quarterback situation used to be the way it is now at USC. In 1968 alone, the Irish QB depth chart had three future NFL players (Terry Hanratty, Joe Theismann and Bob Belden) -- while a fourth, Coley O'Brien, who helped in the national title march in 1966 as a sophomore, was a starting running back. When Heisman candidate Tom Clements was a senior in 1974, freshman Joe Montana was seventh on the depth chart. Under Weis, signing premier quarterbacks should not be a stumbling point, as evidenced the past few years on the recruiting trail. If there are areas still requiring overall upgrades, it would be the defensive line and linebacker -- and that's where Weis and Co., led by new defensive coordinator Corwin Brown, have excelled in recent months with verbals from four defensive linemen and three linebackers. A program with 65 or 70 quality scholarship players could have better depth than one with 85 that hands out grant-in-aids indiscriminately. However, Weis believes the Irish program is just now beginning to fulfill its aspirations in both volume and content commensurate with the level of competition Notre Dame faces. "Now that you're going to have pretty close to the right numbers at every position, that creates more competition, it creates more depth," Weis said. "Now you don't go into a game scared to death and think, 'What happens if he goes down? We have no chance!' "There have been certain positions here, besides the obvious one with Brady (Quinn), where if a player would have gone down you say, 'What are they going to do now?' We're getting to the point where that won't be the case in the future."
For more sports coverage, visit
NBCSports.com