By Mike Purkey
Williamson played like a champion in losing effort
Posted:
Updated: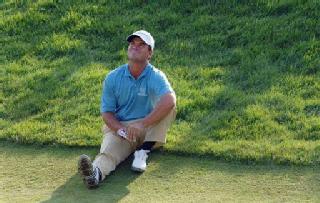 Fred Beckham/AP
The Jay Williamsons of the golf world toil largely unnoticed. Their world is much smaller than the game's elite, who point toward major championships and tournament wins. Those who make up the rest of the 156-player field each week have a different set of priorities. They think about making the cut and finishing the season in the top 125 on the money list.
In other words, members of the rank and file work each week to hold onto their jobs. Jay Williamson lost his job a year-and-a-half ago. He said he'd been fired by the PGA Tour. He got a job on the Nationwide Tour last year and failed to finish high enough on the money list to earn back his playing privileges on the PGA Tour.
This season had held more promise. Before last week, Williamson had won a tournament and was seventh on the Nationwide Tour money list. He looked as if he was going to have the kind of season it would take to return to the Big Show, where he was employed from 1999-2006.
Then came a magic Sunday. Williamson, in on a sponsor's exemption at the Travelers Championship, found himself in an unfamiliar position on the PGA Tour -- with the lead with one hole to play. Some other players when faced with that situation might have folded like a lawn chair. Williamson did not.
Instead, he hit a quality iron shot and missed a 10-foot birdie putt that would have won him the tournament outright. His pursuer, Hunter Mahan, hit his approach inside Williamson's, made the putt and forced extra holes. Williamson hit another terrific iron shot but was beaten when Mahan hit one better, finishing two feet from the hole.
Williamson lost the Travelers Championship but he was a winner, nonetheless. He earned $648,000 and unlimited sponsor exemptions the remainder of the year. Which means that he will easily make enough money to regain his PGA Tour playing privileges. The 125th player on last year's money list made just over $661,000.
What also made Williamson successful last week was his ability to face down the pressure on the final holes. He didn't hit bad shots or bad putts. He didn't give the tournament away; Mahan took it from him.
The PGA Tour is not always for Tiger Woods and Phil Mickelson. A couple of times a year, the Tour is for Jay Williamson and his anonymous brethren. Sometimes a story is so compelling that the retelling of it becomes bigger than the event itself.
There is more than enough room for previously unknown players to rise above mediocrity and put themselves on a national stage to be dissected in the press, on television and on the internet. Through swing sequences and the scramble for background information to give to readers and viewers, we get to know someone who is worth knowing.
The Tour's catch phrase is, "These Guys Are Good." It seems trite, but it's true. Every player who tees it up on Tour is highly talented and full of seemingly unlimited potential. The difference between the great and the merely good can be as small as a couple of lipped out putts per day. With the right breaks and good karma, even the unheralded can become a star for a day.
This is not to discount Mahan's victory. He is 25 and is certain to win more tournaments on the PGA Tour. Williamson is 40 and this might have been his one and only chance to achieve the dream of every journeyman professional golfer who hit balls until dark on every driving range on Tour.
If it was his only chance, he can sleep well at night. His character was tested in the spotlight's hot glare and he didn't succumb. He played like a champion, even if he is not one. Not many can say that.
Mike Purkey has been covering professional golf for more than 20 years for a variety of publications, including GOLF Magazine. He is a former president of the Golf Writers Association of America and is a frequent contributor to NBCSports.com.
For more sports coverage, visit NBCSports.com