By Rich Zuckerman
Five potential steals and busts in the NBA draft
Posted:
Updated: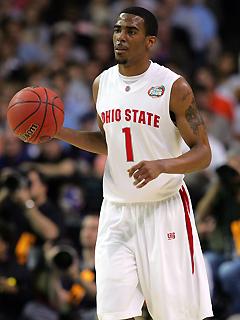 Andy Lyons/Getty Images
The 2007 NBA draft is finally upon us, and every team, scout and fan has an idea of who they'd like to see coming their way. Before the festivities get underway though, let's take a closer look at five potential steals, and five players with the potential to blow up... badly.
Don't sleep on 'em
Rodney Stuckey, G, Eastern Washington
Stuckey's stock has continually risen since the draft evaluation process began, and with good reason. Despite playing against inferior competition at Eastern Washington, Stuckey may be the strongest, and one of the quickest, guards in the draft. He's as good as anyone penetrating off the dribble -- an invaluable skill in today's NBA -- has the ball-handling skills to play either guard spot in the pros, and has the potential to be a lockdown defender. Joe Johnson could be a great comparison for Stuckey.
Rudy Fernandez, SG, Spain
Concerns are starting to creep up about the ability to get Fernandez out of his European contract, but on the court Fernandez is the total package as a shooting guard. He's shown the ability to shoot consistently from the perimeter as well as take the ball to the rim. Fernandez could use to add a few pounds to his slender 6'6" 172-pound frame, but he has an incredibly high basketball IQ, is an active defender and a great ball-handler and playmaker in the offense.
Stephane Lasme, PF, UMass
Carlos Boozer, Paul Millsap and Craig Smith are all undersized big men who fell to the second round in their respective drafts, only to demonstrate a talent far superior to their draft position. This year, Lasme could join them. Lasme stands just 6'8", but he is an absolutely dominant shot blocker, shattering Marcus Camby's career blocked shots record at UMass, in addition to being a great rebounder. Twenty years ago, Lasme would have had a tough time making a defensive impact at his size, but with the big man's game now more about quickness and athleticism Lasme can be a true game-changer for anyone willing to take a chance on him.
Petteri Koponen, PG, Finland
First off, have yourself a good laugh at the name of Koponen's Finnish club team, the Honka Espoo Playboys. There's certainly more than a joke or two to be made at Koponen's expense, but all jokes aside, the 19-year-old has all the tools to succeed as an NBA point guard. At 6'4" and 195 pounds, Koponen has great size and wingspan for the position. He's a sound defender and, despite his youth, is already a very polished passer and playmaker in the offense. As a late first round or early second round pick by a team that can leave him overseas to develop for another year or two, Koponen could turn into one heck of a steal.
Jared Jordan, PG, Marist
Jordan doesn't have the quickness or athleticism of the typical NBA player, however, he is a prototypical point guard, something that's become very rare in today's game. He's a pass-first player that can manage any offense and make his teammates better. It would be too presumptuous to call Jordan the next Steve Nash, but it'd be more than fair to compare him to Steve Blake. Blake may not have a sexy name or a sexy game, but his play with the Nuggets this season proved just how valuable a steady hand at the helm of an uneasy ship can be.
Are they busted?
Mike Conley Jr., PG, Ohio State
By all accounts, Conley is the best point guard in this draft. Ask yourself this question though - if not for Greg Oden, would you, or anyone, have ever heard of Conley? There's no question Conley does a great job running an offense, and he was one of the best penetrating guards in all of college basketball last season, but you have to wonder just how highly rated a prospect he'd be had he not had the opportunity to ride the coattails of his high-profile high school and college teammate. Conley seems to have the confidence to play at the NBA level, but the track record for point guards who jumped to the NBA too soon (Omar Cook, Sebastian Telfair, Erick Barkley, William Avery) is not great.
Al Horford, PF, Florida
Horford has an NBA-ready body capable of holding its own in the paint, something that has helped him rise nearly to the top of most teams' draft boards, ahead of Florida teammate Joakim Noah. Horford and Noah made for a great duo with the Gators, but like Conley you have to wonder how much of Horford's success should be attributed to playing with a high-profile teammate. Horford has all the tools to become a dominant post player, but the test for him will be his ability to be, for lack of a better term, "the man" for the first time without an equally skilled post player next to him.
Nick Young, SG, USC
Michael Jordan is said to be very high on the USC shooting guard, which, given Jordan's draft history, should be reason enough for anyone to stay away from him. Young has tremendous offensive potential and possesses the tools to become a scoring machine, but he doesn't always appear motivated on the court, particularly on the defensive end, and despite his phenomenal offensive tools, he's often not aggressive enough with the basketball in his hands. Wherever he goes, he'll need a fire lit under him and MJ does not have a great kindling history (see Brown, Kwame).
Spencer Hawes, C, Washington
The seven-foot Hawes is more athletic than the prototypical "big white stiff," which could help him find a niche in an up-tempo offense. Hawes will need to get a lot stronger though if he hopes to hold his own in the NBA paint. At just 19 years old he has time to improve, but right now Hawes would be a defensive liability for whoever picks him. He has a nice touch with both hands around the basket, but has the feel of a complementary offensive player, rather than a pivot man you can build around.
Jason Smith, PF, Colorado State
By all accounts Smith has all the tools to succeed at the NBA level with good size, athleticism and shooting touch for a big man. However, he's struggled when going up against stronger players, something he's apt to do on a routine basis at the next level. Even in the Mountain West Conference, Smith had a propensity to disappear in big games, something that should make any team throw up a red flag when considering Smith.
For more sports coverage, visit NBCSports.com