By Tony Massarotti
National League All-Star picks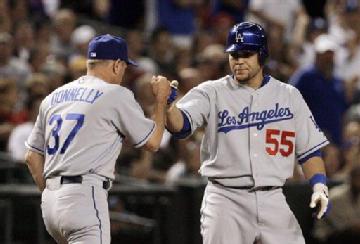 AP - Russell Martin might be the best catcher in baseball and should earn the starting nod in the All-Star game.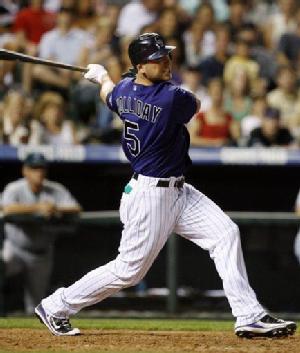 AP - Colorado's Matt Holliday leads the NL in batting at .349
As FOX likes to tell us, year after year after year, "This time, it counts." (But not really.) And the good news this year is that the All-Star Game is in San Francisco, a National League venue, which means the game will be played without a designated hitter and that the NL actually has a chance at getting home-field advantage in the World Series (at least in theory.)
But then, given the way the World Series went last year, who needs home field? The St. Louis Cardinals won a mere 83 games during the 2006 regular season, but whipped the Detroit Tigers in five games, even without home-field advantage. Still, given that the American League is a disturbing 9-0-1 in the last 10 All-Star Games, here is the club that will beat the remaining hair out of manager Evan Grant and the 2007 AL team.
CATCHERS
Starter: Russell Martin, Los Angeles Dodgers
Backup: Bengie Molina, San Francisco Giants
We have seen the future of catching and, at least according to his bio, he is 5-foot-10 and 210 pounds. Going forward, the 24-year-old Martin looks to be the measuring stick at his position for the entire National League, assuming he remains injury-free over what looks to be a very promising career.
The others? Molina, Atlanta's Brian McCann and Milwaukee Johnny Estrada have virtually identical numbers, but we opted for Molina because there may not be another Giant on this team. (You'll just have to wait and see.) As for Barrett, wouldn't his presence on the NL team at least make things interesting in the dugout?
I mean, wouldn't you like to see if someone like Billy Wagner wants to take a swing at him, too?
Wish You Were Here: Michael Barrett, Chicago Cubs/San Diego Padres; Johnny Estrada, Milwaukee Brewers; Brian McCann, Atlanta Braves
INFIELDERS
Starters: 1B Prince Fielder, Milwaukee Brewers
2B, Chase Utley, Philadelphia Phillies
3B, Miguel Cabrera, Florida Marlins
SS, Jimmy Rollins, Philadelphia Phillies
Reserves: Jose Reyes, SS, New York Mets; Edgar Renteria, SS, Atlanta Braves; Adrian Gonzalez, 1B, San Diego Padres; Albert Pujols, 1B, St. Louis Cardinals; Brandon Phillips, 2B, Cincinnati Reds; Ryan Zimmerman, 3B, Washington Nationals
Based on this ballot, at least, there are going to be some seriously ticked off people in Florida and Milwaukee. Here's why: There could be five shortstops on this team, but numbers force us to bypass Hanley Ramirez and J.J. Hardy. Part of the problem is that we had to include both Pujols and Zimmerman because their clubs otherwise wouldn't have a representative at the game, as rules require.
As for the others, Adrian Gonzalez has more RBI than any other NL first baseman but Fielder and more runs scored than, say, Todd Helton or Derrek Lee. Phillips, meanwhile, is on roughly a 30-30 pace at second base, and there just aren't many infielders in baseball who can do that sort of thing.
Wish You Were Here: J.J. Hardy, SS, Milwaukee Brewers; Chipper Jones, 3B, Atlanta Braves; Hanley Ramirez, SS, Florida Marlins; David Wright, 3B, New York Mets.
OUTFIELDERS
Starters: Matt Holliday, Colorado Rockies
Aaron Rowand, Philadelphia Phillies
Carlos Lee, Houston Astros.
Reserves: Barry Bonds, LF, San Francisco Giants; Ken Griffey, RF, Cincinnati Reds; Brad Hawpe, RF, Colorado Rockies; Alfonso Soriano, LF, Chicago Cubs; Eric Byrnes, Arizona Diamondbacks.
Funny, isn't it? In the American League, it seems like there aren't enough spots for all of the good outfielders; in the NL, it seems like there are too many. Holliday is a lock, but we've also opted for Lee and Rowand as starters, the latter because he's having as good or better a year than any other center fielder in the league, and somebody has to play center.
As for the others, specifically Bonds, he has been as productive as anyone else and leads the world in on-base percentage. But aside from the age in this group, the most obvious concern is that the outfield defense could be positively atrocious, especially without someone like Atlanta's Andruw Jones this year.
But hey, it's an All-Star Game. Take a hack, boys.
Wish you were here: Adam Dunn, Cincinnati Reds; Carlos Beltran, New York Mets.
STARTING PITCHERS
Starter: Brad Penny, RHP, Los Angeles Dodgers
Reserves: Jake Peavy, RHP, San Diego Padres; Chris Young, RHP, San Diego Padres; Cole Hamels, LHP, Philadelphia Phillies; Tom Gorzelanny, LHP, Pittsburgh Pirates; John Smoltz, Atlanta Braves.
For all the attention Peavy has been getting this season - and rightfully so - look at the numbers: Penny has more wins and a better ERA. Still, both Peavy and teammate Young deserve to be on this club because they rank in the top three in the league in ERA (behind Penny), and Hamels ranks second in the league in strikeouts while posting nine wins (and a 3.80 ERA) in the launching pad known as Citizens Bank Park.
The others? Smoltz gets the nod over Maine and Sheets. (Heck, we may need him to close if the game goes extra innings.) And Gorzelanny is here because, well, somebody from the Pirates has to be. Might as well be him.
Wish you were here: John Maine, RHP, New York Mets; Ben Sheets, RHP, Milwaukee Brewers.
RELIEF PITCHERS
Closer: Takahi Saito, RHP, Los Angeles Dodgers
Set-up men: Francisco Cordero, RHP, Los Angeles Dodgers; Trevor Hoffman, RHP, San Diego Padres; Billy Wagner, RHP, New York Mets; Brian Fuentes, LHP, Colorado Rockies; Jose Valverde, RHP, Arizona Diamondbacks.
Tough call between Cordero and Saito for the top job, but we're opting for Saito based on this fact: He has 41 strikeouts and just three walks. That's right, three. (Lots of guys can get saves, but few get them quite like that.) As for the rest of the group, Fuentes and Wagner will give manager Tony La Russa the chance to play match-ups in the late innings, and if there's one thing we know about La Russa, it's that he likes to play match-ups.
In fact, if this game takes more than three hours to play, you can blame him for bringing us into the age of specialization.
Wish you were here: Jason Isringhausen, RHP, St. Louis Cardinals.
For more sports coverage, visit NBCSports.com