Theoret and Villwock grab first heat wins of 2007 unlimited hydroplane racing season
Posted:
Updated: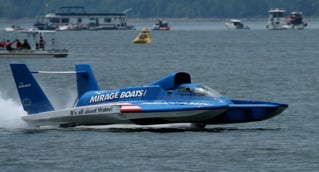 Photos: Jim Simpson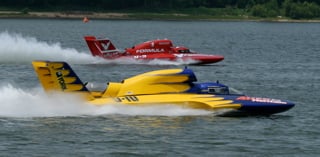 EVANSVILLE, Ind. - Jean Theoret and Dave Villwock have racked up their first heat victories of 2007 at the Evansville Freedom Festival.
Heat 1B was a wild one and a fair amount of confusion for fans. J. Michael Kelley and Mike Allen nearly got tangled up when a buoy from the 2.5 litre course floated in. Allen swereved, moving Kelley into Steve David's path. The u-13 and U-6 bumped. The U-13 came back to the dock with a hole in the right sponson.

Read more: U-13 & U-6 bump in a bizarre Heat 1B in Evansville on Saturday
Jimmy King and the U-3 led the pack across the start-finish line at the beginning of the race, but Villwock and the U-16 grabbed the lead coming out of the first exit pin and held on from there.
Heat 1B
1. U-16 Villwock
2. U-3 Jimmy King
3. U-1 Mike Allen
4. U-6 Steve David
5. U-13 J. Michael Kelley
Villwock's always had a great run at Evansville. He's won 9 out of the last 10 times he's raced here. In fact, the only time he lost was when he broke a prop. He served notice on Friday when he set a modern day course record for speed, topping 161 mph.
"I tell people this race course is a ten," said Villwock. "When I start the boat I know it is ten and then you have to make sure you get everything out of the boat. This course has a lot of speed to give and you need to take it."
Jean Theoret joked about being rusty, but you'd never know it. The U-37 roared to a first place finish in Heat 1A, lfying past the other boats at the start line and never looking back.
Heat 1A
1. U-37 Theoret
2. U-5 Bernard
3. U-100 Hopp
4. U-10 Bryant
U-25 Mucatel DNF
Theoret said it was a good ride. He sure didn't look rusty. And he didn't appear to have any problem with the new, straighter skid fin he was running this year after the ABRA banned the curved skid fin he ran towards the end of last year.
There were other changes to the U-37 during the off-season. The boat's also about a hundred pounds lighter and needed a bit of touch up after last year. "We rebuilt a lot of it. 3 broken frames. Engine. Rudder. Plus the re-design on the skid fin," said owner Billy Schumacher.
Congratulations to David Bryant. David got in his qualification laps early in the day to allow him to start on the front line.