Barricades and fewer entry points after last year's car-into-crowd incident at Madison Regatta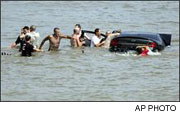 2006: Car that careened through crow landed in the water
Associated Press, 2007
MADISON, Ind. - The Madison Regatta has added a few new safety measures a year after a car careened through a crowd of speedboat racing fans and injured 10 people, including a woman who lost two limbs.
Race chairman Tony Steinhardt said Tuesday that he cannot guarantee this weekend's event featuring unlimited hydroplane races will be without incident, but safety concerns have been addressed. There will be four vehicle entry points to the event area instead of eight, and barricades are in place at what event planners consider critical points.
Steinhardt said the Regatta has a sterling safety record, and he expects that to continue.

"In 50-some-odd years, we never had an issue," he said. "Who would ever think anybody would attempt to do that?"

On July 2, 2006, a car driven by then-18-year-old Michael Bowen left a trail of destruction and injury before it plunged 25 feet into the Ohio River. Bowen, who admitted smoking marijuana the night before the crash, awaits sentencing later this month after pleading guilty to six charges, including criminal recklessness.

The most-seriously injured person, Jennifer Willette of Madison Heights, Mich., had her left arm and leg amputated.

Madison Mayor Albert Huntington called last year's crash a freak accident and that there was little reason for fans to worry.

"We don't really expect anything to happen," Huntington said. "What happened last year was a random act and a very unfortunate thing that we all feel very sad about. We also want people to come back and feel safe, and we've taken every measure to ensure that.

"It would be impossible to drive directly down the street (Vaughn Drive) and get into the event area."

Huntington said there will be no additional police or event staff.

"This is a family event," he said. "We don't experience problems with rowdy crowds."

Madison is in southeastern Indiana, midway between Louisville, Ky., and Cincinnati. Organizers say the weekend draws between 60,000 and 80,000 spectators each year to the riverside community of about 13,000 every Fourth of July weekend.

Steinhardt expects closer to 80,000 this year because it will run for three days for the first time since 2004. He also is optimistic because of the ideal weather in the days before the event. He said last year, flooding caused high waters, keeping fans away.

As for the criminal case, Bowen pleaded guilty in Jefferson Superior Court to three counts of criminal recklessness causing serious bodily injury and three counts of driving while under the influence of a controlled substance. He faces a maximum of four years in prison. His sentencing hearing, originally scheduled for June 7, has been moved to July 19.

In the meantime, the event has pushed ahead. Huntington said ticket sales are up from last year, and the city has purchased a new boat, the Miss Madison sponsored by Oh Boy! Oberto, to compete.

"We've basically gotten over it," Steinhardt said. "We're looking forward to a great race this year."