By Marty Snider
Stronger post-suspension policy in NASCAR's future
Posted:
Updated: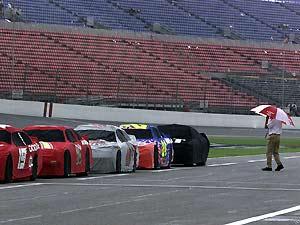 Donald Miralle/ALLSPORT - Rain at the Daytona International Speedway could seriously disrupt qualifying and racing plans this weekend.
One hot button topic is NASCAR's policy on suspended crew members. The current policy allows any suspended crew member to be anywhere on racetrack property, as long as they do not enter an area where their NASCAR license is required, which means they cannot enter the garage area or pit road. Suspended crew members can, however, enter the motorhome lot or buy a ticket, they can also listen in on the team radio and attend team meetings ... as long as they are not in the restricted areas.
The media and fans alike have criticized NASCAR lately for the policy being too lenient. France said on his teleconference that he had just finished a meeting with NASCAR President Mike Helton about that topic. France said that NASCAR would develop a new policy for suspended crew members and "have an announcement on that soon."
With today's current technology a crew member could be at home and run the race team almost as efficiently as they could on the road. Sure there is a tremendous advantage to "being there." That is why all of the current suspended crew chiefs are pushing the rules to their limits by being at the track, taking advantage of every inch of non-rule they can.
In principle it is a wonderful thought to think that NASCAR would want to control the access that teams have to their crew members, or crew chiefs in the current example, but how can NASCAR really do that? Short of putting them under NASCAR's watch during the race, it would be nearly impossible to achieve.
Some fans have suggested putting suspended crew chiefs in the NASCAR control tower for a race to see what NASCAR goes through in officiating a race. Others have suggested a bullpen of sorts where the crew chiefs would have to sit and watch the race in view of everybody. All scenarios, of course, include the crew chiefs being separated from all electronic communication devices.
Whatever the new policy will be, it appears as though NASCAR will take a stronger post-suspension approach and start enforcing suspensions ... imagine that.
Going East?

In an interview where he was unusually candid, France also mentioned that he and other NASCAR officials were recently in China to explore the possibility of taking NASCAR to the Far East. France said that officials there were aware of what NASCAR had been doing and the interest was there to possibly bring NASCAR outside of the United States. Stay tuned on this front but don't expect any movement any time in the next five years.
Change in the works

Expect an announcement Saturday at the Daytona International Speedway that the Nextel Cup Series will change names next season to the Sprint Cup Series. The name change has been anticipated for well over a year and is a formality as Nextel continues its naming transition over to Sprint, which is expected to be fully complete sometime in 2008. Other than the name no changes are expected in the sponsorship of NASCAR's top division.
Hot Daytona

"Welcome to the Face of the Sun."
That is what the sign in the Daytona airport should say when you arrive there in July. Two things you can count on in mid-July in central Florida: 1) It will be hot, and 2) it will rain at some point during the day. Unfortunately, both are likely to affect the race this weekend.
Hopefully, the rain will stay away and allow the teams to qualify and the race to go off on time on Saturday. The heat will be a factor all weekend. Even though it's obviously the same track, the February Daytona race and the July Daytona race are completely different.
With warmer temperatures, the July Daytona race is all about the handling of the car -- you will hear that mentioned several times. If there is one restrictor plate race where handling is the key this is it. The hot temperatures make Daytona slick and with a slick track, handling is at a premium. Traditionally known to have one of the best handling restrictor plate cars, Tony Stewart has won the last two Daytona July races.
In the market?

This will be the last restrictor plate race for the current car. The next plate race will be Talladega, where the Nextel Cup teams will use the Car of Tomorrow. It's strange to think but many of the Nextel Cup teams are selling off their old restrictor plate cars because they will be obsolete. I was talking to David Stremme this week, and he told me that his Talladega car they used to finish sixth with just a few months ago is for sale at the shop.
"You wouldn't believe who has shown interest in some of our cars," Stremme said. "From collectors, to people just off the street. It's pretty cool."
Most of the purchases are by ARCA teams who will use the cars starting this fall at Talladega and next year at Daytona.
Once teams are done with all of the spoiler cars this year there will be a flood of the cars being sold into the market. Some say it will create the most competitive ARCA Series season in history next season as those teams fight to purchase the cream of the old Nextel Cup crop.
Daytona favorites

It is so hard to pick a favorite for any restrictor plate race. This race is a bit easier with the fact that handling is such a key as we talked about before.
Stewart is the easy pick, as he has won the past two July Daytona races and arguably had the best car here in February but was involved in a mid-race crash. Stewart has yet to win in 2007, so if he does Saturday night the fence-climbing might be prolific.
Kurt Busch has also been strong at both of the plate races in 2007, but he has not won a Nextel Cup restrictor plate race. That could change Saturday night. It's also hard to bet against any of the Hendrick teammates ... Jimmie Johnson, Jeff Gordon, Casey Mears and Kyle Busch will all likely be in contention.
There are an infinite number of other possibilities ... Kevin Harvick, Mark Martin, Dale Earnhardt, Jr. and many others could enjoy some time up front on Saturday night. The one thing that is guaranteed, this race will be a blast to watch.

For more sports coverage, visit NBCSports.com