U-10 Miss Ahern Equipment Rental will miss Detroit unlimited hydroplane race due to damage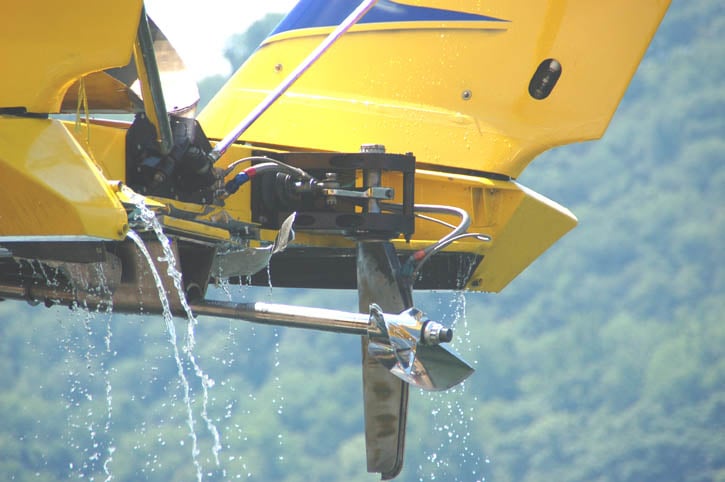 Photos - Jim Simpson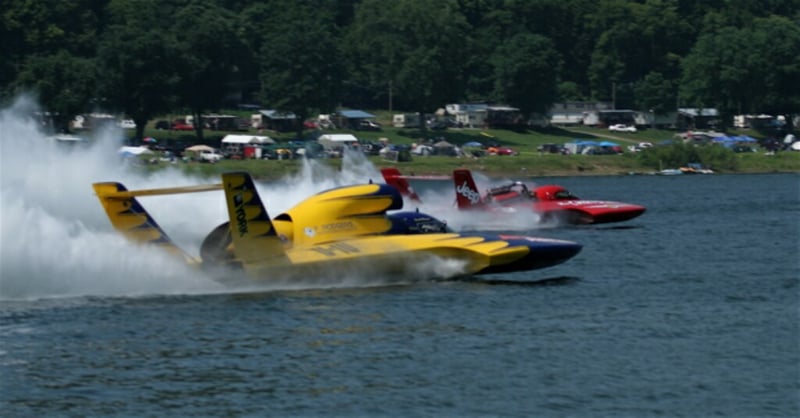 MADISON, Ind. - For the second straight year, disappointment and damage plagued the U-10 Miss Ahern Equipment Rentals' unlimited hydroplane team at the 57th Annual Indiana Governors Cup in Madison, Ind.
David Bryant in the U-10 was a half a rooster tail behind Jimmy King in the U-3 and trying to close on turn one of the final lap when something went wrong. He couldn't make the turn and just ran straight off the course. The Miss Ahern Equipment Rental struck something in the water damaging the gear box, propeller, propeller shaft line, and strut, said co-crew chief Adam Gregory.
"We definitely hit something," Gregory said. "One blade of the propeller snapped at the hub and there is another blade that was dinged up." Once a blade comes off it upsets the balance of the shaft -- resulting in damage all the way up to the engine, he said.
With extremely low river levels, logs and debris that are submerged in the rivers muddy bottom get churned up and float to the surface.
Last year the team also struck debris in the river causing substantial damage to the hull of the race boat, and in 2004 then driver Mike Weber hit something causing the escape hatch open during racing. There was the blow-over in 2003, said co-crew chief Matt Gregory. Maybe the team will just stay home next year and watch the motion picture Madison, the team joked.
"As a result of the damage, we will skip the APBA Gold Cup next weekend," Adam Gregory said.
The team won the Gold Cup in 2004. This is the first time the team has missed the Gold Cup since the team's inception in 1999. "It is what it is," he said.
The team will lease the former Miss Budweiser shop in Tukwila, Wash. to make all the necessary repairs and will be ready for the Tri-Cities Water Follies Atomic Cup July 27-29.
Despite the damage, team owner, Kim Gregory said he is pleased with the progress of his rookie driver David Bryant. It is no longer incremental growth, but growth in leaps and bounds, Kim Gregory said.
Source: USA Racing Partners & Staff reports