Detroit 2007: It's the turns at the Gold Cup course that make it tough for Unlimited Hydroplane drivers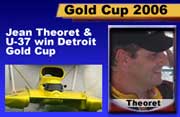 It's Gold Cup time! We know it's the home of the oldest racing trophy in motor sports. It's a big deal to win it here and it's no easy task.
"Detroit is another one of those unique race courses," said U-16 driver Dave Villwock; "the history, the lore." Another thing that makes it unique are the turns. The course has one of the shortest turns and longest turns on the circuit... in the same course.
"Turns always play into the race," said Villwock. "Exciting that's for sure."
The tight turn has caused problems in the past. "You've got to be on your game for that turn," said U-1 driver Mike Allen. "On the far end, you almost feel like it's a straightaway. (On the short turn) You have to be careful about what you're doing with the wing position. You better be set up before you go around the corner."
Set up is tough. "You have the biggest and smallest (turns), you have to come up with some medium (set-up)," said Villwock. "Set it up for acceptably fast on one end and handle the turn on the other end. Some teams struggle for setup and qualifying... it's a game of trying to set up for what the river will give you that day."
River conditions play a big role on any unlimited hydroplane race site. Detroit's no different.
Mostly it's the conditions, currents, what's happening around the river as far as wind direction that make it a competition fromd river to river as well as from driver ot other driver and team. challenging. most exhilirating and most disasterous at the same time. "Between the wind and the water, it's tough," said Allen.
Villwock said, "not much room for error." Add to that the number of new boats and rookie drivers running the course for the first time. "Things just happen," Villwock said; "Dave Bryant and a number of new drivers haven't driven on this course before. They are going to try to steer that boat into the turn, and not get it right all the time, might run into someone or over someone."
That's why Villwock said experience is the key. We've seen some upsets in Detroit, the unexpected boat and driver getting the win. It's not always the fastest boat.
"You have to work this course very well to get where you want to be at the right time," said Jean Theoret, U-37 driver and 2006 Gold Cup winner. "You don't have the room to maneuver. If you're in front can use this course to your advantage," he said.
Here are the winners from the past 10 years.

View the full list of past winners at: GOLD CUP WINNERS
2006 U-37 Jean Theoret
2005 U-13 Terry Troxell
2004 U-10 Nate Brown
2003 U-3 Mitch Evans
2002 U-1 Dave Villwock
2001 U-9 Michael Hanson
2000 U-1 Dave Villwock
1999 U-100 Chip Hanauer
1998 U-1 Dave Villwock
1997 U-1 Dave Villwick
1996 U-1 Chip Hanauer