By Matt Casey
The All-Star team, movie edition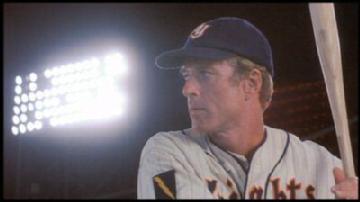 With a rocket arm and incredible power, New York Knight Roy Hobbs was a shoe-in for an outfield spot.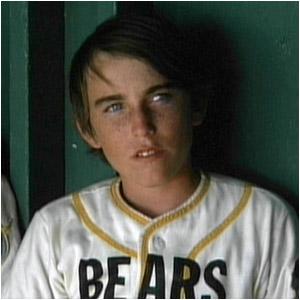 Despite only being a Little Leaguer, Kelly Leak gets the nod at DH, edging out Pedro Serrano.
For an event deemed unimportant by more and more critics every year, baseball All-Star selections sure do receive a ton of attention. But since no one cares about who got snubbed a day after the game, let's get into a debate that's far more relevant and timeless: who makes the starting lineup for the Baseball Movie All-Stars. A couple of ground rules. No real-life characters, so anyone from
Eight Men Out
is off the list. No one who plays himself is eligible (no Griffey from
Little Big League
). Former players who play fictional characters are allowed. Here's the squad, organized by batting order...
CF: Willie Mays Hayes, Major League Credentials:
Hit like Mays and ran like Hayes...Cut the rug outside the stadium after he made the team...Beat two guys in a 100-yard dash wearing his pajamas after they had a 20-yard head start...Led off the season by knocking the crap out of a 78-foot dribbler...Had the movie equivalent of the Dave Roberts Stolen Base...Scored from second on a bunt.
Says it all:
"I bought 100 of these. One for every base I'm gonna steal. Excuse me while I take my first step towards the Hall of Fame."
Also considered:
Mae Mordabito,
A League Of Their Own
; Ahmad Abdul Rahim,
Bad News Bears
2B: Marla Hooch, A League Of Their Own
Credentials: Had an eeeyyyyyye like DiMaggio...Not afraid to booze it up and sing on stage at a local roadhouse.
Says it all: "And there's Marla Hooch...what a hitter!"
Also considered: Mickey Scales, Little Big League (But before his big homer in the one-game playoff, he asked the manager if he wanted him to hit. No one does that.)
RF: Roy Hobbs, The Natural
Credentials: Made his own bat from a tree...Struck out The Whammer on three pitched balls...Knocked the cover off the ball...Smashed the clock in Chicago (somehow this ended the game even though the Knights were on the road)...Homered into the lights to send the Knights into the World Series.
Says it all: "And then? And then when I walked down the street people would've looked and they would've said there goes Roy Hobbs, the best there ever was in this game."
Also considered: There is no one else.

1B: Clew Haywood, Major League
Credentials: Led the league in most offensive categories, including nose hairs - when this guy sneezes he looks like a party favor...Two moon-shots off of Ricky Vaughn, one of which was headed somewhere towards South America...Played by Pete Vukovich, the trashiest player of the 80's and arguably of all-time.
Says it all: "How's your wife and my kids?"
Also considered: Lou Collins, Little Big League

LF: Miles Dalrymple, Summer Catch
Credentials: Hits bombs...likes big-boned females...made an absurd leaping catch over the fence (even though in real life that's a home run, not an out).
Says it all: "Excuse me, I am tired of living a lie. I need it to be known that I like a big girl. In fact, a large, zaftig, voluptuous, full-figured, big-boned, massive-assive honey, that is what gets me going. I like fat women and they like me... big girls need love too, baby!"
Also considered: Bobby Rayburn, The Fan
C: Crash Davis, Bull Durham
Credentials: Most minor league homers ever...Forced a rainout by leaving the sprinklers on overnight...Chewed out a batter admiring a home run after he tipped off the pitch.
Says it all: "Well, I believe in the soul, the [blank], the [blank], the small of a woman's back, the hanging curve ball, high fiber, good scotch, that the novels of Susan Sontag are self-indulgent, overrated crap. I believe Lee Harvey Oswald acted alone. I believe there ought to be a constitutional amendment outlawing Astroturf and the designated hitter. I believe in the sweet spot, soft-core pornography, opening your presents Christmas morning rather than Christmas Eve and I believe in long, slow, deep, soft, wet kisses that last three days."
Also considered: Gus Sinski, For Love Of The Game ("And Sinski with his first leg double since the Reagan administration" - Vin Scully); Mike Engelberg, Bad News Bears; The Great Hambino, The Sandlot; Dottie Henson, A League Of Their Own
DH: Kelly Leak, Bad News Bears
Credentials: Almost homered on an intentional walk pitch...Went deep at the Astrodome (sequel)...Dead ringer for Steve Nash...Had first dibs on Amanda Whurlitzer.
Says it all: "I got a Harley Davidson. Does that turn you on? Harley Davidson?"
Also considered: Pedro Serrano, Major League; Jack Parkman, Major League II
3B: Benny Rodriguez, The Sandlot
Credentials: Assuming he can play third even though it was never made clear what his primary position was...Taught Smalls how to catch a ball by telling him to stick his glove out...Outran a killer dog just to save an autographed baseball...Stole home in a major league game and still had the wherewithal to point to his childhood buddy in the pressbox (who was a terrible announcer by the way...Hit bombs while wearing an unbuttoned jersey and jeans...Sported a phenomenal replica of Jose Valentin's mustache in said game where he stole home.
Says it all: "Got a fireplace? Throw that in there man."
Also considered: Roger Dorn, Major League; The guy from The Natural who took one off his boys because he was staring at a broad in the stands.
Absolutely not considered: Doris Murphy, A League Of Their Own - Rosie O'Donnell has no business being in this discussion. No business.
SS: Tanner Boyle, Bad News Bears
Credentials: Attempted to fight his entire grade because he was sick of losing...Ran away from the umpires long enough to extend the game at the Astrodome.
Says it all: "Hey Yankees! You take your apology, and your trophy, and shove 'em straight up your [butt]."
Also considered: Pat Corning, Little Big League

Bench: Jake Taylor, Major League
Credentials: In full uniform, drove the bullpen care halfway across town to sleep with his ex-girlfriend after a game...Helped to induce game-ending pop-up against the A's by distracting batter with dirty talk...Swinging bunt knocked in winning run to send team to ALCS...Successfully pulled off the white blazer-turquoise t-shirt-jeans look...Brilliantly punked ex-girlfriend's current boyfriend in front of stuck up guests.
Says it all: "Is that you Tolbert? I'm hungover! My knees are killing me and if you're gonna pull this [stuff] at least you could've said you're with the Yankees!"
Also considered: Jerry Johnson, Little Big League
SP: Billy Chapel, For Love Of The Game
Credentials: Perfect game at Yankee Stadium in his last game ever.
Says it all: "God, I always said I would never bother you about baseball, lord knows you have bigger things to worry about. But if you could make this pain in my shoulder stop for ten minutes, I would really appreciate it."
Also considered: Nuke Laloosh, Bull Durham; Al Fowler, The Natural; Carmen Ronzonni; Bad News Bears in Breaking Training; Amanda Whurlitzer, Bad News Bears
SP: Steve Nebraska, The Scout
Credentials: Took Bret Saberhagen yard and made Keith Hernandez look foolish in a scouting combine...Won a World Series game for the Yanks with an 81-pitch-all-strike perfect game and also hit a home run (even though there's no way that Ozzie Smith would ever be considered a threat with one out to go).
Says it all: "But I'm not your father. I'm just a guy taking 15%."
Absolutely not considered: Henry Rowengartner, Rookie Of The Year; Mel Clark, Angels In The Outfield
CL: Rick Vaughn, Major League
Credentials: Played in the California Penal League...Thought he looked like a banker in a cutoff leather jacket and tie with no shirt...Had the coolest intro to any game, real life or fantasy...Could be credited with starting the trend of closers coming into the game to music...Took down Dorn's wife...Set a record for wild pitches in an inning...
Says it all: "Juuuuust a bit outside. Tried the corner and missed."
Also considered: Duke Temple, Major League; John Rhoades, The Natural (Although there's possible Brad Lidge Syndrome here after giving up that walkoff to Roy Hobbs).
RP: Jim Bowers, Little Big League
Credentials: Team prankster...Drops water balloons from his hotel room onto fellow teammates...Mental capacity to compute complicated math equations...Caught Krn Griffey Jr. with a legal version of the hidden ball trick.
Says it all: "And Mac, the horse's name is Friday."
Also considered: Blackout Gatling, Little Big League
Manager: Jimmy Dugan, A League Of Their Own
Credentials: Sold off the team's equipment during a managing stint in San Antonio...Rivals Austin Powers for Most Impressive Performance While Relieving Oneself...Spent an entire inning scratching himself...Coined the famous "There's no crying in baseball!" line.
Says it all: "Uh, Lord, hallowed be Thy name. May our feet be swift, may our bats be mighty, and may our balls...be plentiful. And Lord, I'd just like to thank You for that waitress in South Bend. You know who she is - she kept calling Your name."
Also considered: Lou Brown, Major League; Pop Fisher, The Natural; Morris Buttermaker, Bad News Bears; Mike Leak, Bad News Bears in Breaking Training (Much better performance here with the "Let them play!" chant than he ever had on 24).
Disagree with any selections? Email matt.casey@nbcuni.com
For more sports coverage, visit NBCSports.com