Missing Tacoma Girl's Body Found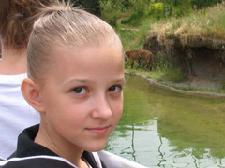 TACOMA, Wash. (AP) - Tacoma police say they have found the body of a 12-year-old girl who was taken from behind her home on the Fourth of July.
Police Chief Don Ramsdell says information provided by a man in custody on an immigration complaint led police to an undisclosed Pierce County site where the remains of Zina Linnik were recovered. He says crime scene investigators are processing the scene. There is no immediate word on whether the man in custody will be charged in the little girl's death.
Zina disappeared after her father heard her scream the evening of July 4th, and ran outside to see a gray van pulling away. Ramsdell did not name the person whose information led them to the girl's body.
However, authorities earlier this week said their investigation led them to a 42-year-old man from Thailand whom they called a person of interest. He is currently being held for an immigration violation and failing to register as a sex offender.
The man was convicted in 1990 of incest and completed a 60-day jail sentence and five years of sex offender treatment.
Copyright 2007 by The Associated Press. All Rights Reserved.