A slide show will appear here shortly.
Fire Burning Acres of Land After Lightning Strikes Near Webber Canyon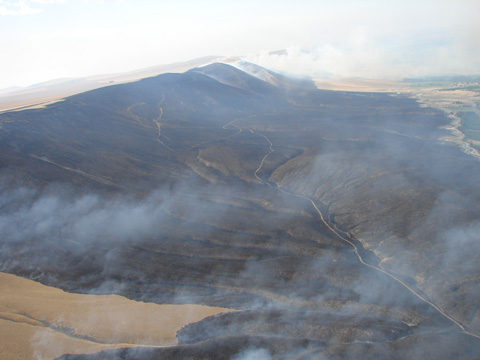 Steve Kinne.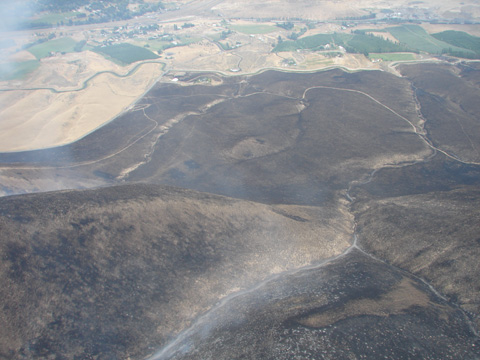 Steve Kinne.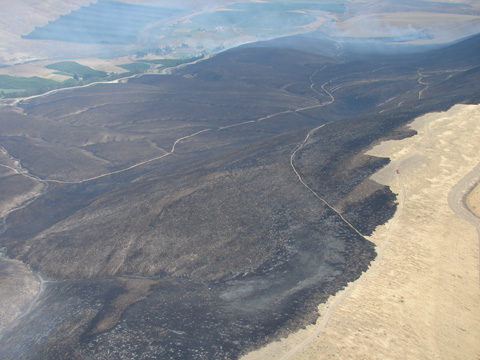 Steve Kinne.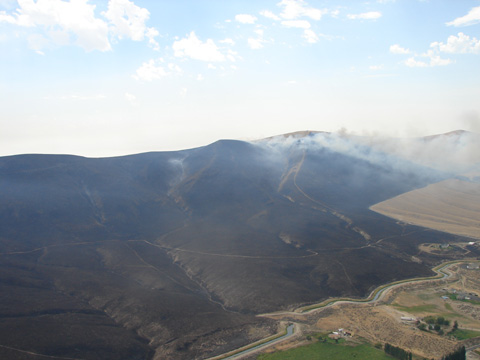 Steve Kinne.
Today's Forecast
Good Evening!

It was "HDOY" Hottest day of the year, (so far)! We had lots of sunshine today with afternoon highs in the low to mid 90s, that's twenty degrees above normal for some communities.

Now we are going into a "temperature roller coaster"… A strong cold front pushes through the Pacific northwest tonight and tomorrow morning. This will cause temperatures drop 20 degrees tomorrow with highs topping out in the low mid 70s. Wednesday also looks quite windy as the pressure gradient tightens. A "Wind Advisory" has been posted for the Kittitas Valley where we might see winds gusting up to 50mph at times.
On Thursday, a weak upper level disturbance will produce partly sunny skies and a slight chance for a few showers or a stray Thunder-storm.

High pressure returns Friday with sunshine and temperatures warming into the low-mid 80s. The warming trend continues into the Memorial Weekend with highs in the mid 80s to low 90s.
Be well and have a Great Evening!
Tim Adams

5-Day Forecast: Tri Cities
Wed
nesday
Partly Sunny, WINDY & Cooler
Thu
rsday
Partly Sunny, Stray PM Shower
Fri
day
Mostly Sunny
Sat
urday
Sunny and Warmer
Sun
day
Sunny
Currently in Tri Cities as of
82°(Feels like 82°)
Clear
Wind: W @ 17 mph
Barometer: 29.7 in.
Sunrise: 05:14:28 am
Sunset: 08:32:48 pm
Humidity: 22
Visibility: 10 mi.
UV Index: 0
5-Day Forecast: Yakima
Tue
sday
Clear
Wed
nesday
Abundant sunshine
Thu
rsday
Mix of sun and clouds
Fri
day
Abundant sunshine
Sat
urday
Mainly sunny
Currently in Yakima as of
74°(Feels like 74°)
Clear
Wind: WNW @ 26 mph, gusting to 36 mph
Barometer: 29.79 in.
Sunrise: 05:19:02 am
Sunset: 08:39:30 pm
Humidity: 35
Visibility: 10 mi.
UV Index: 0
5-Day Forecast: Ellensburg
Tue
sday
Clear and windy
Wed
nesday
Partly cloudy and windy
Thu
rsday
Mix of sun and clouds
Fri
day
Mainly sunny
Sat
urday
Sunny
Currently in Ellensburg as of
65°(Feels like 65°)
Clear
Wind: WNW @ 31 mph, gusting to 44 mph
Barometer: 29.8 in.
Sunrise: 05:17:19 am
Sunset: 08:41:14 pm
Humidity: 48
Visibility: 10 mi.
UV Index: 0
5-Day Forecast: Walla Walla
Tue
sday
Mostly clear
Wed
nesday
A few clouds
Thu
rsday
Times of sun and clouds
Fri
day
Abundant sunshine
Sat
urday
Abundant sunshine
Currently in Walla Walla as of
80°(Feels like 80°)
Clear
Wind: SW @ 20 mph, gusting to 29 mph
Barometer: 29.74 in.
Sunrise: 05:11:58 am
Sunset: 08:28:54 pm
Humidity: 34
Visibility: 10 mi.
UV Index: 0
5-Day Forecast: Moses Lake
Tue
sday
Mainly clear
Wed
nesday
Sunny
Thu
rsday
Times of sun and clouds
Fri
day
Sunshine
Sat
urday
Mainly sunny
Currently in Moses Lake as of
75°(Feels like 75°)
Clear
Wind: W @ 25 mph, gusting to 35 mph
Barometer: 29.69 in.
Sunrise: 05:11:56 am
Sunset: 08:37:00 pm
Humidity: 22
Visibility: 10 mi.
UV Index: 0
Regional Conditions
82°
74°
65°
80°
75°